Ground chicken is an incredibly versatile ingredient and a great choice when you want to switch up your ground meat rotation. Here is a collection of healthy and easy ground chicken recipes that transform this mild-tasting meat into something flavorful every time.
Ground chicken is inexpensive and tastes great in meatballs, burgers, wraps, chili, soup, and more. After going through these healthy recipes, I'm sure you will agree that ground chicken should be a staple in your kitchen.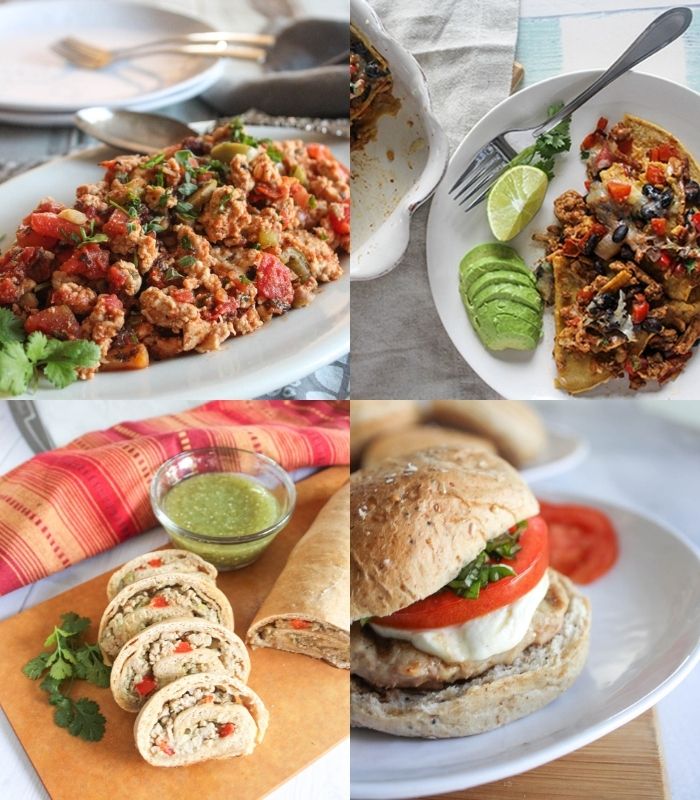 What's the difference between ground chicken and ground turkey?
Ground chicken and ground turkey are similar in many ways. They are both mild in flavor, with only a slight difference in taste. Ground chicken and ground turkey are low in fat and a great alternative to ground beef and are interchangeable in recipes.
How do you cook ground chicken without drying it out?
Since it's lean, ground chicken tends to get dry when it's cooked. Cooking ground chicken in sauces and soups will help to keep the chicken moist.
If you are preparing chicken burgers, meatloaf or meatballs without sauce, I highly recommend that you add a little bit of fat or liquid such as olive oil, avocado oil, soy sauce, broth, sour cream, or yogurt which help to keep the meat moist.
Another good option, especially for burgers and meatballs is to add diced or shredded vegetables such as zucchini, mushrooms, onions or bell peppers to the ground chicken. This will add more nutrients, moisture and flavor!
What can you make with ground chicken?
You can make just about anything with ground chicken that you would make with ground beef or ground pork. The best thing is that ground chicken cooks faster than ground beef which makes it perfect for busy weeknights.
This collection of ground chicken recipes has some of the most healthy and tastiest ground chicken recipes including meatballs, chili, soups, wraps, and burgers.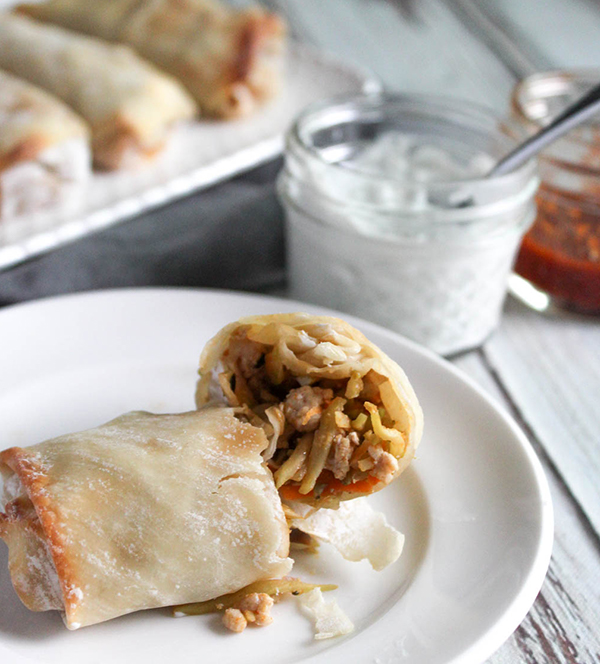 Ground chicken appetizers
Baked Buffalo Chicken Egg Rolls are filled with lean ground chicken and vegetables combined with hot sauce and then baked until they are golden brown. Serve them with a side of homemade and healthy blue cheese dressing.
Salsa Verde Chicken Stromboli is a delicious appetizer filled with layers of seasoned ground chicken filling, pepper jack cheese, and salsa verde. It's perfect for an easy meal or appetizer that the whole family will love.
Tandori Chicken Sliders are bite-sized tandoori-style burgers served with a seasoned yogurt sauce. Serve them larger as an entree or enjoy them as an appetizer.
Ground Chicken Nuggets with Lemon & Rosemary are juicy on the inside and crispy on the outside. Serve them with lemon and fresh rosemary aioli dipping sauce.
Chicken Taco Cupcakes are a fun appetizer that has all of the flavors of tacos packed into a cupcake form.
Meatballs, meatloaf and kofta
Chicken Piccata Meatballs are a twist on the classic dish, chicken piccata. Tender chicken meatballs are tossed in a delicious piccata sauce for the best chicken meatballs ever.
30 Minute Chicken Marsala Meatballs are bite-sized meatballs served in a mushroom marsala cream sauce. Serve them for a quick and healthy dinner or an easy appetizer.
Healthy Ground Chicken Meatballs Recipe in Creamy Sauce are a healthy chicken meatball recipe in a creamy rosemary and garlic sauce.
Sheet Pan Greek Chicken Meatballs with Crispy Potatoes crispy roasted potatoes cooked on a sheet pan with tender chicken meatballs topped with a creamy yogurt sauce.
Curry Chicken Meatballs are tender curry chicken meatballs served with coconut jasmine rice.
Buffalo Chicken Meatballs have all of the buffalo chicken flavors that you love wrapped in a meatball.
Italian Chicken Meatballs & Sweet Potato Spaghetti Italian chicken meatballs are simmered in homemade tomato sauce and served over sweet potato spaghetti.
Grilled Chicken Koftas are seasoned with a delicious blend of spices. Serve them with rice or grilled vegetables for an easy weeknight meal.
Healthy Ground Chicken Meatloaf is a twist on traditional meatloaf. It's made with hidden veggies and topped with a ketchup glaze, then baked to perfection.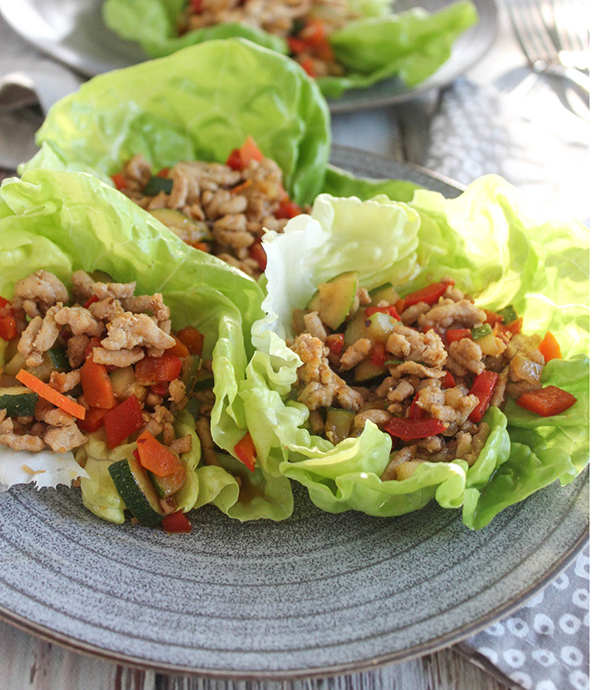 Wraps and Tacos
Asian Chicken Lettuce Wraps are low carb and delicious! They are packed with lean ground chicken fresh vegetables and tons of flavor.
Thai Chicken Lettuce Wraps are bursting with the flavors of ginger, garlic, and basil. They are perfect for a delicious lunch or dinner.
Black Bean Sweet Potato and Chicken Lettuce Wraps are made with Mexican flavors and are perfect for taco night.
Low Carb Chicken Tacos ground chicken taco meat is a great alternative to ground beef tacos; another good choice for taco night.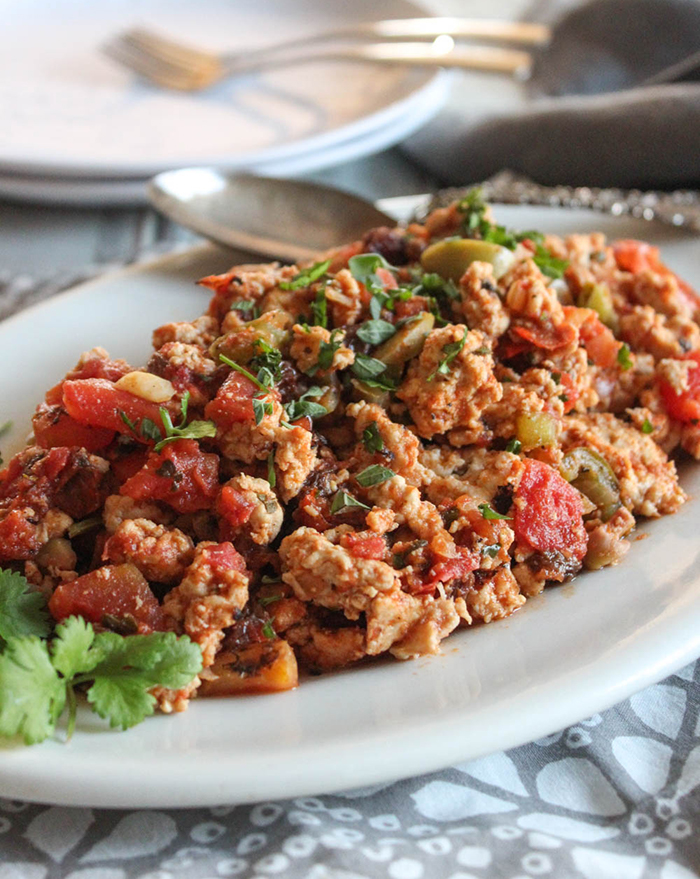 Entrees
Chicken Picadillo is sweet, salty, and savory all in one bite. It's simple to make and versatile.
Chicken with Zucchini Noodles is filled with fresh ingredients and flavor and a perfect way to fill up on your veggies. It's a delicious low carb and nutritious meal.
Chicken with Pasta Casserole is filled with ground chicken, fresh veggies and cheese. It's an affordable healthy meal that can be ready in less than one hour.
Black Bean Chicken Casserole is similar to lasagna with Mexican flavors. Ground chicken is cooked with spicy jalapenos and tomatoes and then layered between tortillas.
Stuffed Pepper Skillet is a satisfying, one-pan weeknight meal made with healthy ingredients.
Chicken Wonton Taco Bowl inspired by Applebee's chicken wonton tacos is made with the same Asian flavors made into a bowl.
Chicken Parmesan Stuffed Peppers are easy to make and kid-friendly! They are made with pasta, cheese, ground chicken and peppers.
Soboro Don (Ground Chicken Bowl) is an easy and filling dish made with healthy ingredients and comes together quickly.
Chicken Keto Crust Pizza is made without any type of flour. It's easy to make and loaded with protein and healthy fats.
Ground Chicken Stuffed Delicata Squash stuffed squash is roasted to perfection and then stuffed with ground chicken and vegetables.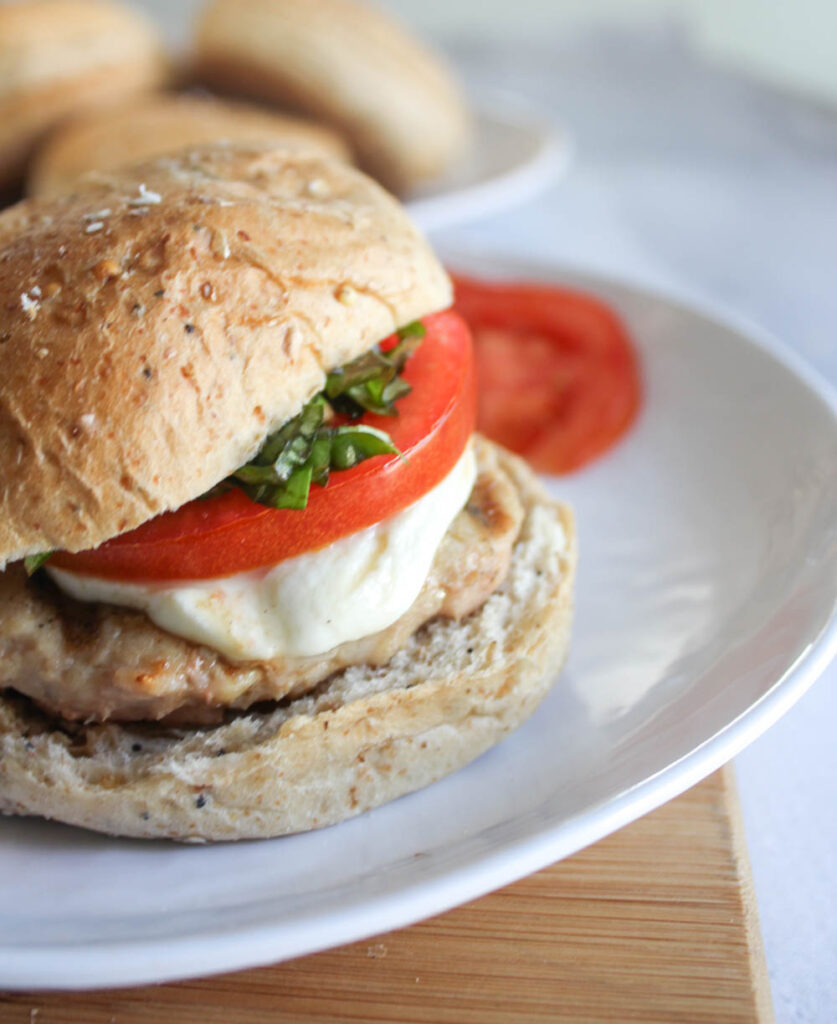 Chicken Burgers
Chicken Caprese Burgers are moist and delicious chicken burgers are topped with mozzarella cheese, fresh tomatoes, and basil.
Jamaican Jerk Chicken Burgers are tasty, lean chicken burgers flavored with a homemade jerk seasoning blend.
Grilled Chicken Burgers with Black Olive Tapenade are quick to make. The Classic herb flavors with the salty bite from the tapenade will be your new favorite chicken burger. And these burgers are gluten-free and allergy-free.
Greek Ground Chicken Burgers have all of the classic Greek flavors packed into a chicken burger.
Chicken Patties are easy to make and perfect for a quick weeknight dinner.
Chicken Apple Brat Burgers are made with ground chicken breasts seasoned with bratwurst spices and apples.
Soup recipes
Instant Pot Italian Wedding Soup is filled with spinach, pasta, Italian herbs and hearty meatballs.
Meatball Minestrone Soup is jam-packed with veggies, beans, pasta, and chicken meatballs. It's a hearty and satisfying soup.
Chicken Noodle Soup is a quick, easy and delicious soup made with ground chicken.
Healthy Side Dish Ideas to Serve with Ground Chicken Entrees
If you are looking for more healthy, easy recipes, check out our chicken recipes here!