Pickled jalapeno peppers are spicy, zesty and  easy to make with only a few ingredients!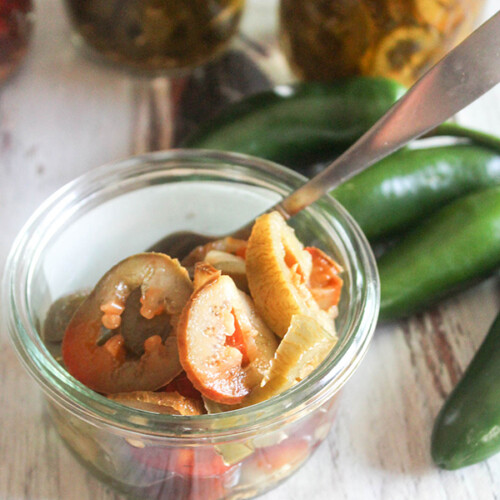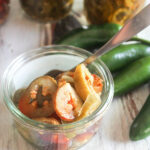 Homemade pickled jalapenos are spicy, tangy and easy to make. They are a great way to preserve a little bit of summer.
If you think pickling is time-consuming, think again because these tangy and spicy pickled jalapeno peppers can be made in less than an hour! There are only a few simple ingredients need to make these pickled peppers: jalapeno peppers, apple cider vinegar, sea salt and water.
This post may contain affiliate links for more information, please see our Disclosure.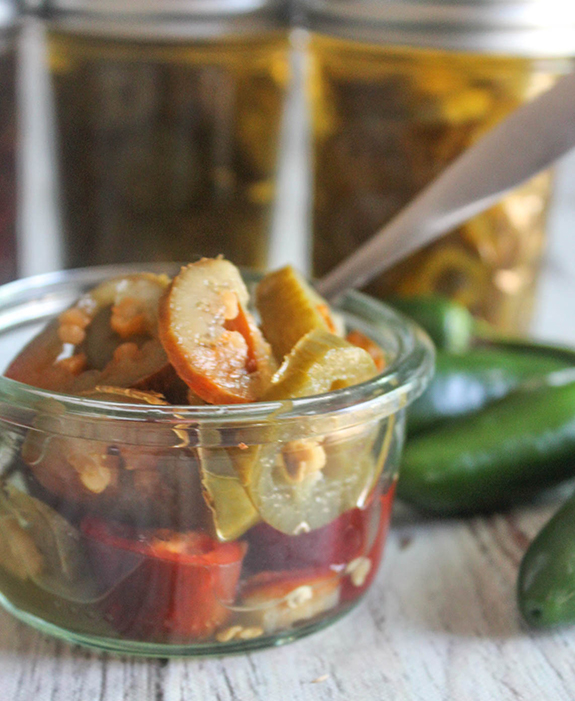 Recipe Highlights
Unlike most pickling recipes that are for large batches, this recip makes three to four jars. You can double or triple the recipe by clicking on the scale button in the recipe card.
There are easy to make and with only four ingredients!
Here is what you will need
Jalapeno peppersJalapeno peppers
water
3 to 4 8 ounce Mason jars with lids
A pot large enough to hold 4 mason jars
A small saucepan to heat the brine
Canning Jar Lifter (not mandatory, but makes it a lot easier!)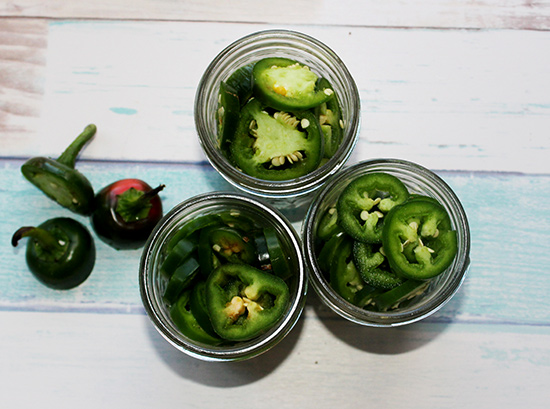 Recipe Steps
Please note that this a summary list of steps to give you an idea how to make this recipe. The full details are in the recipe card below.
Sterilize the mason jars
Prepare the peppers by slicing them into rings and stuffing them into the jars.
Make the brine, heat it, and pour it over the peppers in the jars.
Place to tops onto the jars and carefully add them to a pot of boiling water.
Carefully remove the jars from the water using a jar lifter or potholder.
Allow the jars to cool off at room temperature.
There is always an open jar of homemade pickled jalapenos in our fridge. They taste great on pizza, chili, nachos, and tacos.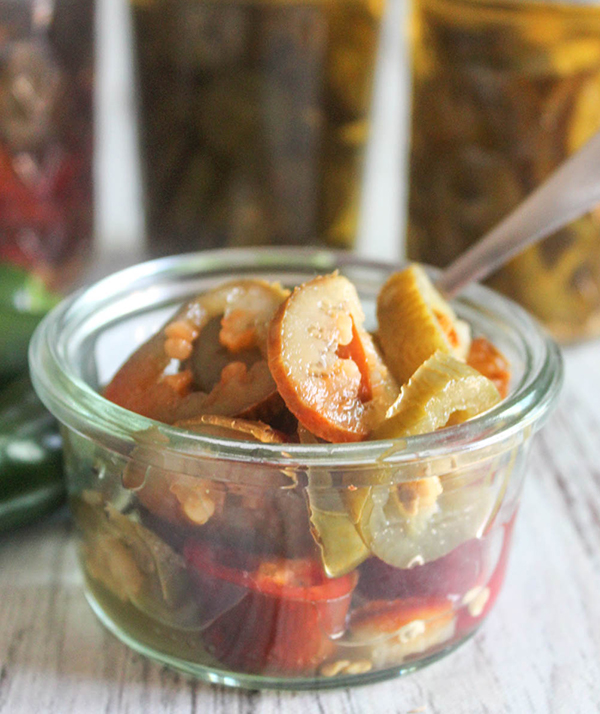 Estimated Time to Make Pickled Jalapeno Peppers: 40 to 50 minutes PLUS cooling time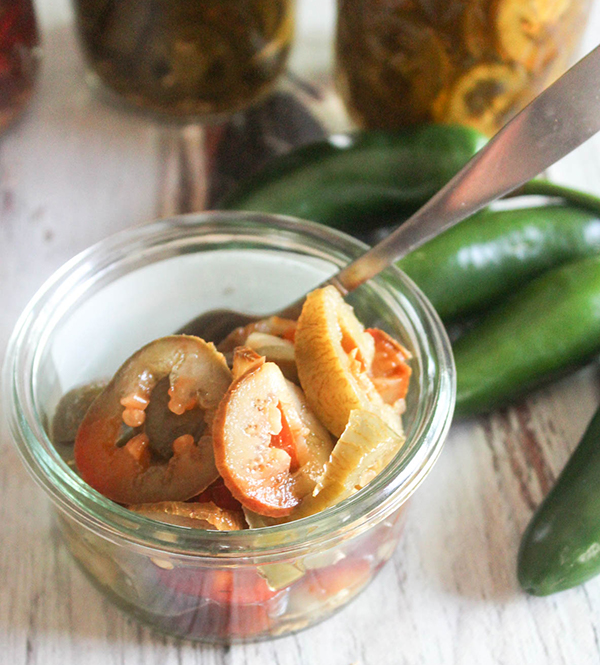 Tips for Making Pickled Jalapeno Peppers
For a milder jalapeno pepper, look for jalapenos with bright green skin without any blemishes or lines on them. Jalapeno peppers with lines in the skin and a darker color will be very hot. Once they turn red, they will be extremely hot!
Control the heat in teh peppers by cutting out the seeds and membranes when slicing with peppers. If you prefer hot, just slice them into rings.
Wear rubber gloves when handling jalapenos, capsaicin which produces heat in hot peppers can cause a burning sensation on your sking and it is difficult to wash off. If your hands feel like they are burning, rub them with fresh lemon juice.
When a lid doesn't make a pooping sound store the jar in the refrigerator and eat thos peppers first. They will last for up to a month.
Pickled jalapeno peppers can be stored in your pantry for up to six months. Once the jar has been opened, store it in the refrigerator for up to a month.
Pickled Jalapeno Recipe Variations
Add sliced chili or banana peppers to the jalapeno slices for a jar of mixed pickled peppers.
Add a clove of garlic to each jar for a garlickly flavor.
Substitute sea salt with an equal amount of pickling salt or kosher salt
You might also like these pickle recipes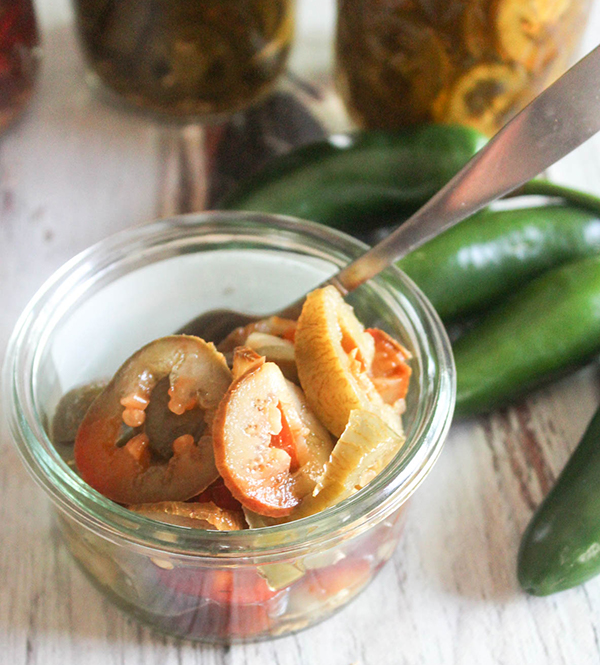 Click on serving size to scale this recipe
Ingredients
3 to 4

half pint sized mason jars with lids and seals

approximately 15-20 jalapeno peppers

four to five peppers will fit into on jar

1 ½

cups

apple cider vinegar

1

cup

water

1

teaspoon

sea salt
Instructions
Sterilize the jars and lids by placing them carefully in a

medium sized pot

of boiling water for at least 15 minutes

Use tongs or a jar lifter to remove the jars and lids and place them on a clean towel to dry.

Prepare the peppers by slicing them into rings, filling each jar as you slice them - really pack them in

Make the brine by combining the vinegar, water, and salt and bring it to a boil. Reduce the heat and simmer for 10 minutes until the salt dissolves.

Pour the prepared brine over the peppers in each jar (should be about ½ cup per jar).

Secure the lids tightly on each jar.

Bring the water to boil in the same pot that you sterilized the jars in and submerge the 4 covered jars of pepper slices and brine. The jars should be covered about half to the top with water.

Let the jars boil in the pot for about 20 minutes over medium to high heat.

Carefully remove the jars from the water with tongs and set aside on a towel to cool.

As the jars cool, listen for the lids to snap indicating a secure seal -- if the jar doesn't seal, store in the refrigerator for up to a month

Wait a least a week before opening your peppers and keep them refrigerated after opening.
Notes
Add sliced chili or banana peppers to the jalapeno slices for a jar of mixed pickled peppers
Add a clove or two of garlic to each jar for a garlicky flavor
Nutrition information is provided by Nutrifox, an online calculator and is meant to be used for informational purposes only. Even though I try to provide accurate information, these figures should still be considered as estimates.
Nutrition
Serving:
1
/2 cup
|
Calories:
20
kcal
|
Carbohydrates:
3
g
|
Sodium:
295
mg
|
Fiber:
1
g
|
Sugar:
2
g
Nutrition information provided is an estimate and can vary based on cooking methods and ingredients used
Follow Me!