Almost everyone loves a good burger, but burgers often have a reputation for not being healthy and they actually are! You can make delicious burgers at home with these tips and healthy burger recipes.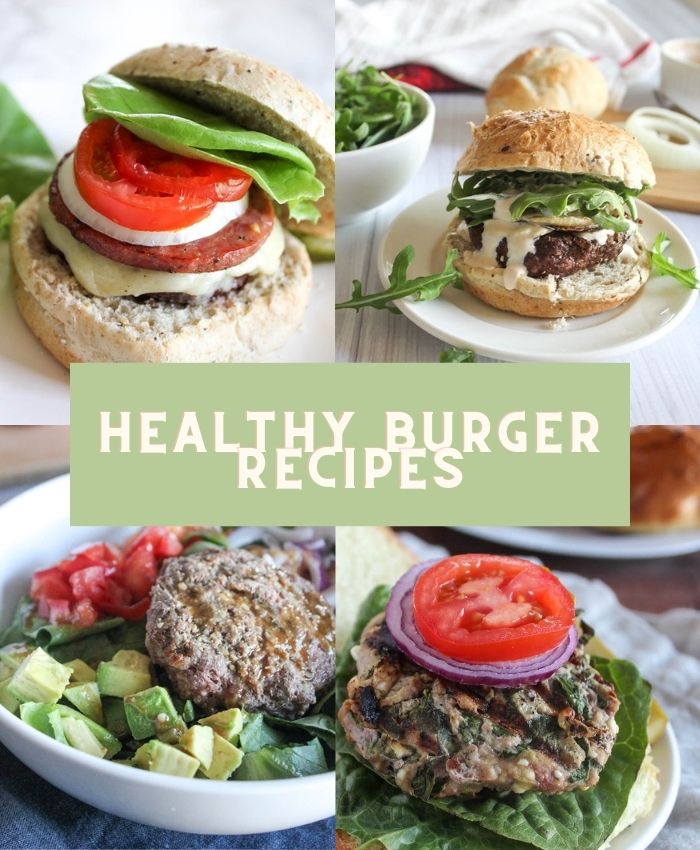 What makes a burger healthy?
Burgers all by themselves aren't unhealthy, it's the quality of the ingredients and what we add to them that makes them less healthy.
When making burgers, use natural and high-quality ingredients for a healthier version of your favorite burgers. Make the burgers yourself, homemade burgers not only taste better, you can also control the size of your burgers and what goes into them.
Tips for making healthy burgers
Meat
Aside from ground beef, there are many options for making burgers such as ground turkey, ground chicken, ground bison, ground lamb, beans, and whole grains.
Check out ButcherBox for high-quality lean ground humanely raised meat!
When using animal protein to make your burgers, use 3 to 4 ounces of meat and serve mini burgers or bulk them up by adding chopped mushrooms, zucchini, carrots or onions, or even whole grains.
The veggies will provide moisture to the burgers which is perfect for lean meat.
Add-Ins
Seasoning and sauces can boost the taste of burgers. Top the meat patties or mix your favorite spices on to customize your burgers with a burst of flavor.
To keep it healthy, choose seasonings and sauces that have no added sugar. Here are a few of our favorite add-ins:
Worcestershire sauce & soy sauce- add an umami flavor
Hot sauce such as buffalo or sriracha sauce adds a kick to the burgers
Cheese
Fresh herbs such as oregano, parsley, cilantro, dill, sage, thyme
Dried spices and spice blends such as garlic powder, onion powder, sea salt, cracked black pepper, chili powder, bbq rubs and steak seasoning.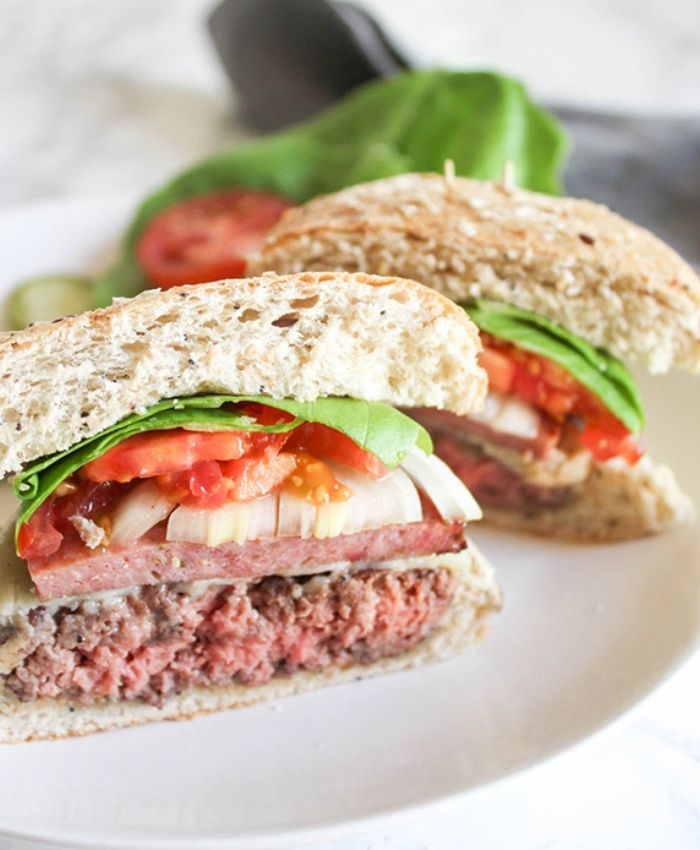 Toppings
Toppings make or break a cooked juicy burger. Traditional toppings such as lettuce, tomato, and onions enhance the burger flavor and sometimes that's all that you really need. Take your burgers up a notch and try adding a variety of toppings, here are some suggestions for extra flavor.
Lettuce
Arugula
Spinach
Microgreens
Sprouts
Red onion
Pickles
Tomatoes
Roasted peppers
Hot peppers
Olives
Avocado
Guacamole
Salsa
Pico de gallo
Bacon (in moderation)
Cheese (cheddar cheese, American cheese, feta cheese, swiss cheese, mozzarella cheese)
Use as many toppings that you like to make your own customized burger. Cheese and bacon add flavor, but go light on them so they don't overpower the burger and health benefits.
Tip! When making burgers for several people, I like to make up a tray of toppings and let everyone make their own burger creation.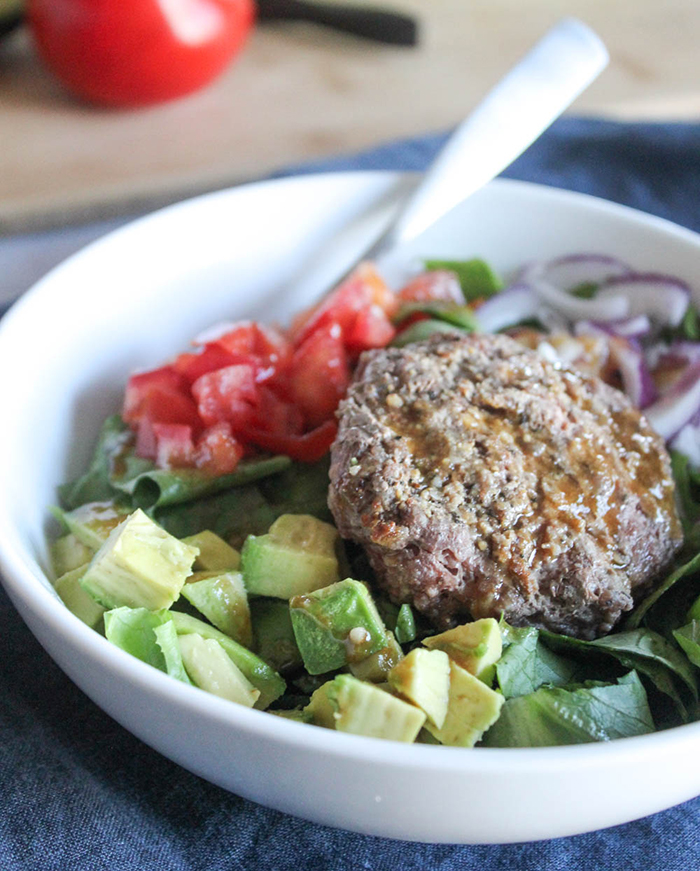 Burger buns
Instead of a hard roll made with white flour, opt for whole-wheat buns, whole grain buns, whole grain bread, whole wheat bread or pita pockets.
You can also make a low carb-burger and serve your burger in a bowl, for tasty burger bowls or burger salads.
Tip! Serve your burger in lettuce cups or lettuce buns for another great way to enjoy a low-carb burger.
The best way to cook healthy burgers
Grilling burgers on an outdoor grill is a great way, and my favorite way to make a juicy burger. It's convenient with easy clean-up, but there are other cooking methods such as a stovetop in a cast iron skillet or a grill pan.
If you choose the indoor cooking method, you will need to add a little bit (no more than one tablespoon) of olive oil or avocado oil to the frying pan before cooking the burgers.
The best healthy burger side dishes
Burgers are a quick and easy dinner idea, and I like to make easy side dishes to go along with them such as cucumbers in vinegar, pasta salad with spinach, healthy tuna macaroni salad or no mayo potato salad and of course homemade zucchini pickles or sweet and spicy pickles.
Healthy Burger Recipes
If you are looking for some done for you healthy burger recipes, here are a few of our favorite tasty burger recipes. They are made with high-quality beef, turkey, chicken and veggies.
Let me know in the comments which one is your favorite!
Check out more of our Appetizer and Snack recipes here!