Chocolate almond bites are made with dark cocoa power, chewy Medjool dates. almonds and a hint of coconut. They take just minutes to make, are gluten free, dairy free and delicous!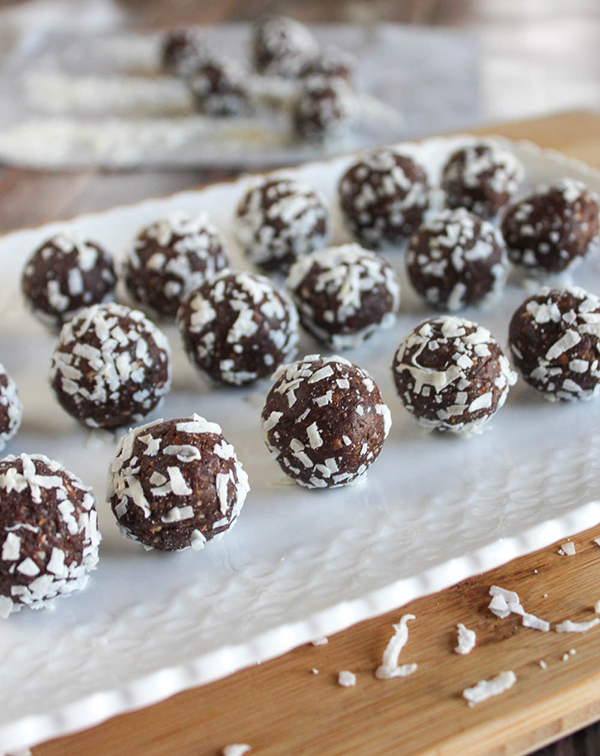 Here Is what you will need
As an Amazon Associate, I earn from qualifying purchases
This is an overview of the ingredients and steps to make this recipe, scroll down for a printable recipe card with exact measurements and instructions.
Estimated amount of time to make this recipe: 30 minutes
A Naturally Sweet and Decadant Snack
Don't let the healthy ingredient list scare you away, these dark chocolate almond bites are decadant tasting and you can enjoy them guilt free.
Medjool dates are naturally sweet, chewy, loaded with fiber and are an excellent source of potassium and vitamins. When they are blended into a paste, they taste very similar to caramel.
When rich dark chocolate and almonds are added to the date caramel, it becomes a deliciously sweet snack that tastes almost like a chocolate truffle.
So go ahead and enjoy these because they are made from wholesome naturally delicious ingredients just like these Chocolate Energy Bites with Peanuts.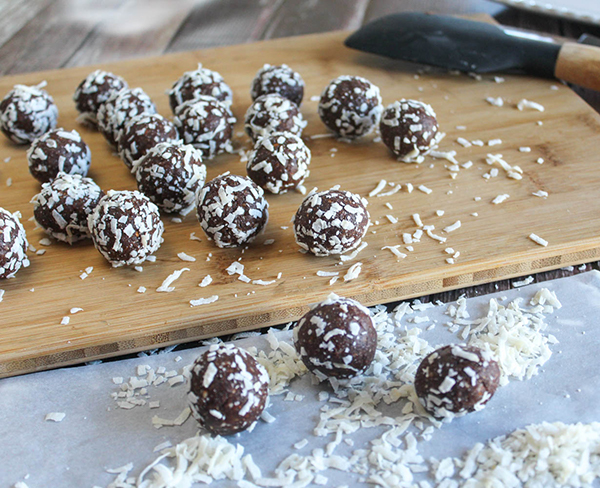 Recipe Tips & Variations
Which dates are the best to use?
Medjool dates are a better choice when making this recipe. They are softer and more chewy than regular dates. If you can't find medjool dates, regular dates will work but you may have to soak them before blending them.
Soaking the dates before blending them
Medjool dates are typically soft and chewy when they are fresh. Like most dried fruits once the package has been opened they can dry out. If the dates become dry, you can soak them for 20 to 30 minutes in warm water before blending them. After soaking, drain them and add them to the blender or food processor.
Freeze chocolate almond bites
Chocolate almond bites will keep in the refrigerator for a week and they can also be frozen. Here's how: place the chocolate almond bites onto a cookie sheet and add it to the freezer. Once the bites are frozen store them in a freezer container. Allow them to thaw or enjoy them frozen.
Change up the ingredients
Substitute the almonds with cashews, peanuts, or pistachios.
Roll the bites in chopped nuts or melted chocolate in place of the coconut.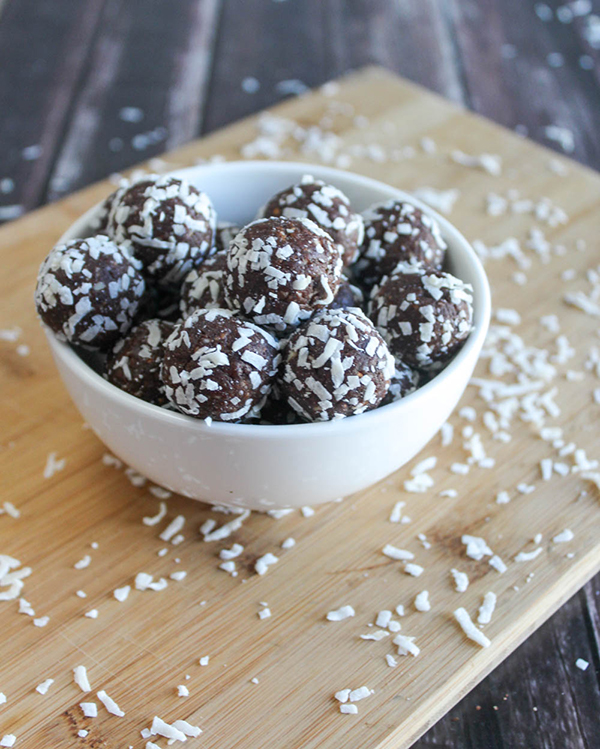 You might also like these naturally sweet snacks
Sign-Up! Enter your email address and receive free recipes, menu ideas, and more!