Grilled balsamic chicken breasts with peaches is an easy tasty summer dinner idea! It is made with peaches and boneless chicken breasts that are grilled to perfection.
You will love the flavor combination of sweetness from the peaches and the savory taste from the marinated chicken in this recipe. For a really easy dinner that can be on the table in less than one hour, serve grilled chicken and peaches with a simple arugula salad and a baked potato. It's a great way to enjoy summer peaches that are in season.
This recipe was originally posted in 2018, it's been updated for content and photos.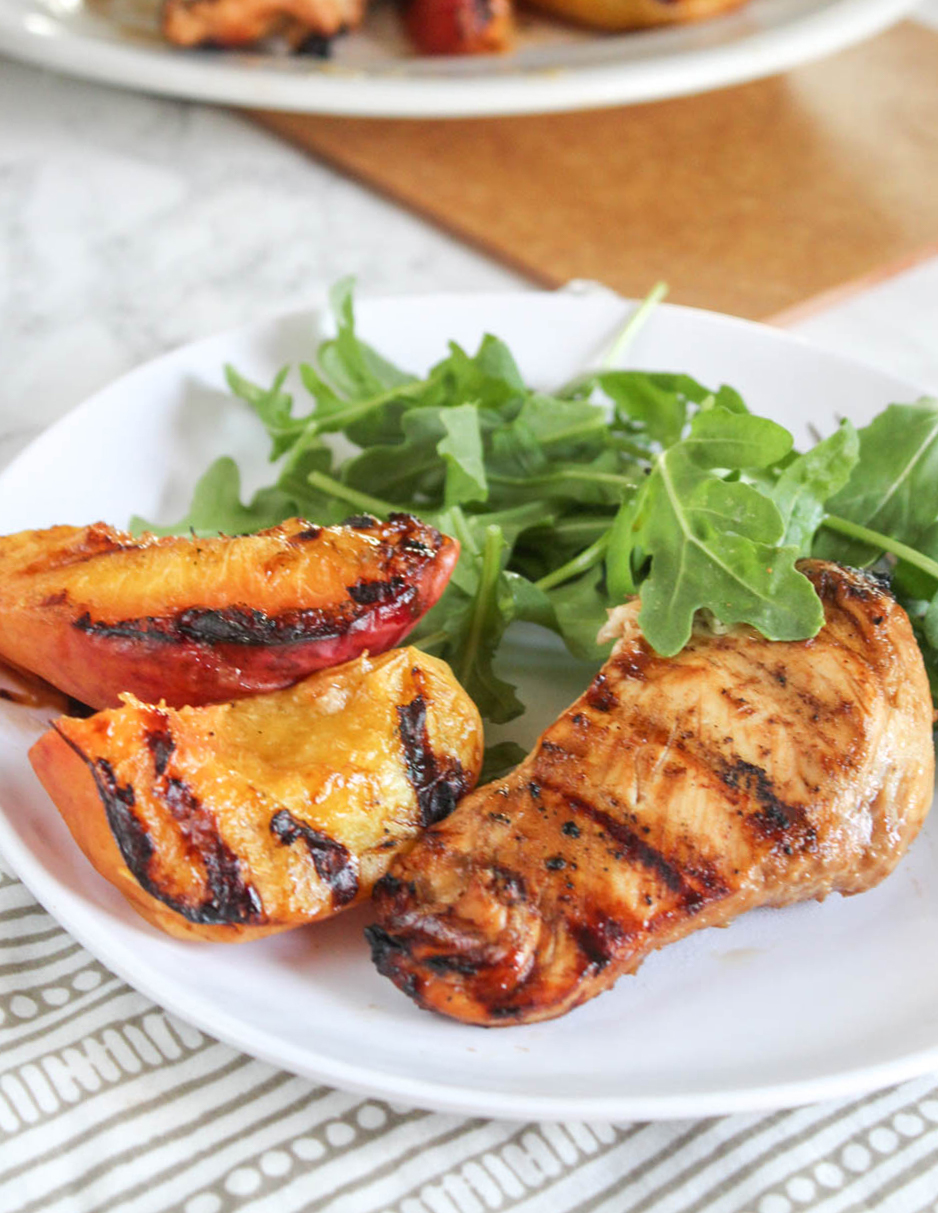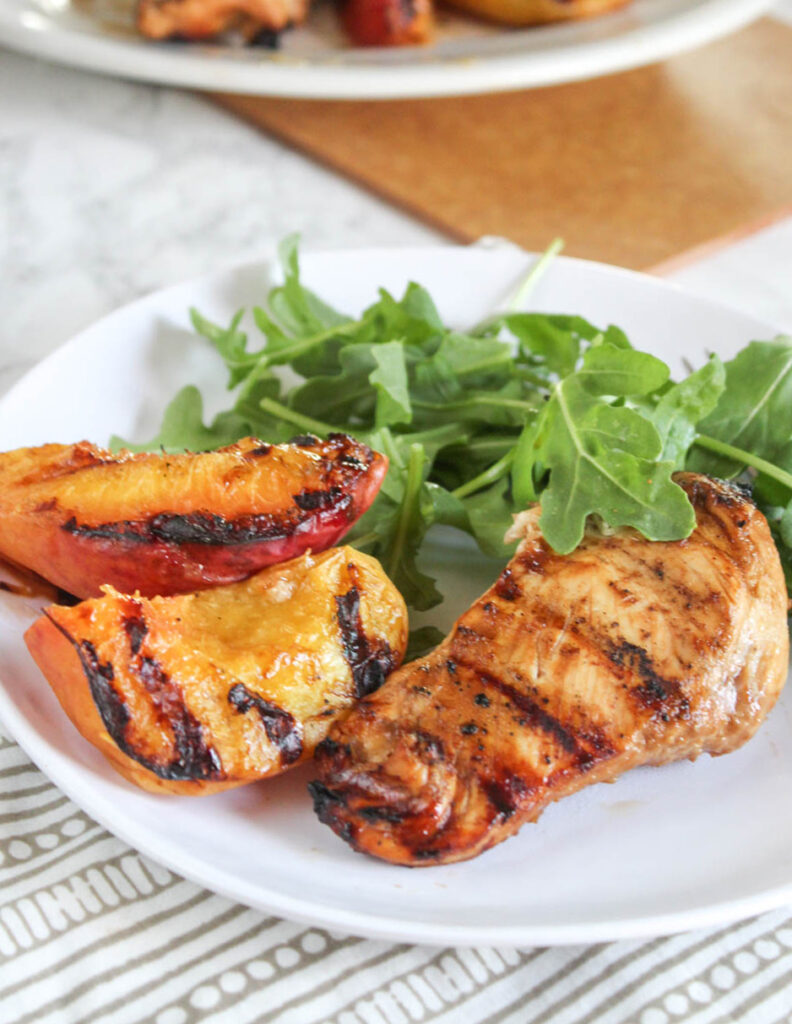 Why this Recipe Works
It's healthy, made with fresh, delicious peaches and lean chicken breasts.
It's quick and easy to make with only 7 ingredients.
Make extra to use leftovers in salads during the week.
Here is what you will need
As an Amazon Associate, I earn from qualifying purchases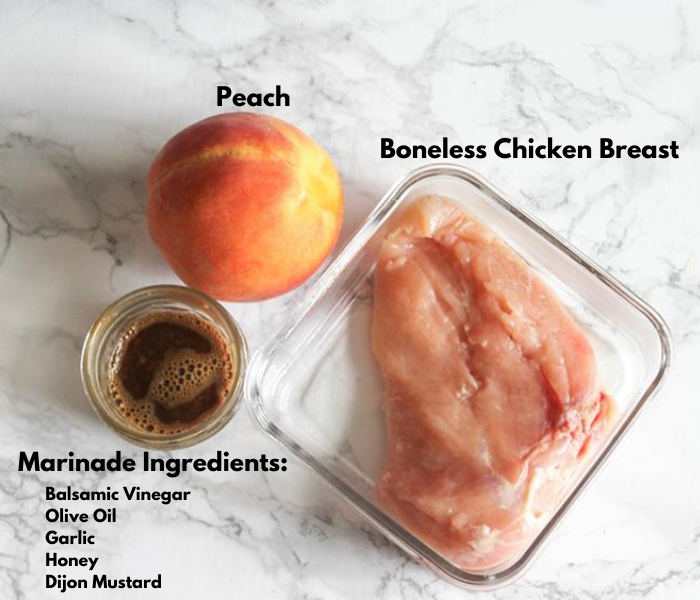 Boneless chicken breasts or boneless chicken thighs
Fresh peaches that are firm to the touch and not overripe
Garlic
Honey
Estimated Time To Make This Recipe: 15 to 20 minutes (not including marinade time)
Here's How to Make it
Please note that is a summary of steps, refer to the recipe card below for details and ingredient amounts
Mix the marinade ingredients for the grilled balsamic chicken breasts together and reserve one tablespoon of the marinade and set it aside. Pour the remainder of it over the chicken and refrigerate for at least an hour. Remove the chicken from the refrigerator before cooking to bring it to room temperature.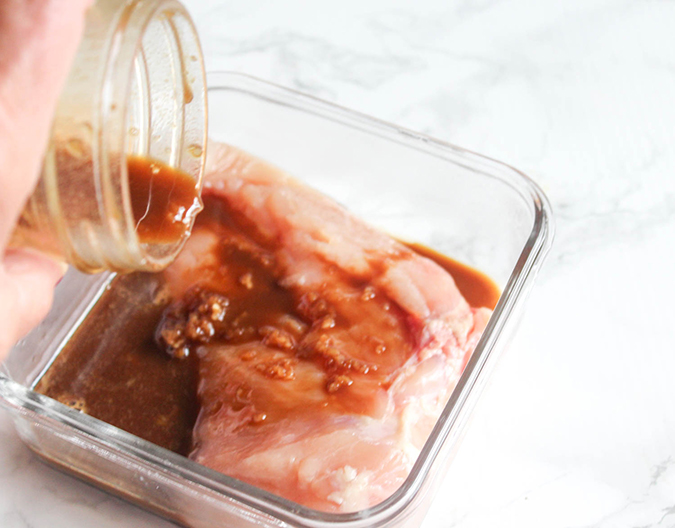 While the chicken is marinating, slice a peach in half and remove the pit (see how to slice and remove a peach pit below). Do not peel the peach! If you don't like peach skin, peel it after it has been grilled. Brush the flesh of the peach with the one tablespoon of marinade that was set aside.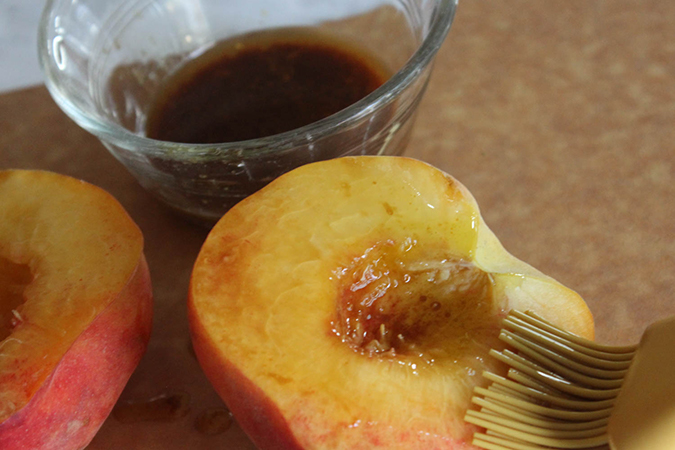 Heat the grill to medium heat and add the chicken breasts and cook them for about 10 minutes before turning them over. Add the peaches to the grill flesh side down and cook for about 5 minutes until grill marks form. Turn the peaches over and cook for 5 minutes longer.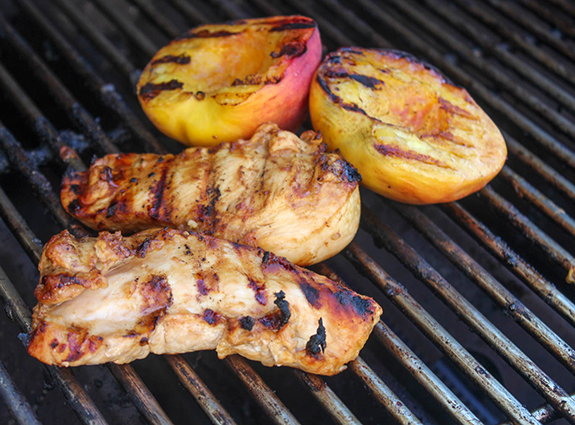 Recipe Tips
For best results, the peaches should be cut in half before grilling them. The larger sized pieces will not fall through the grill grates as smaller pieces will. Once the peaches are cooked, you can slice them into quarters. Here are a few other tips for grilling peaches.
How to remove a peach pit
Use a pairing knife and slice the peach along the seam all the way around. Then grasp the peach in both hands and twist the halves the peach should come apart. Grab the pit with your fingers and pull it out. If there is resistance, use a teaspoon to scoop the pit out.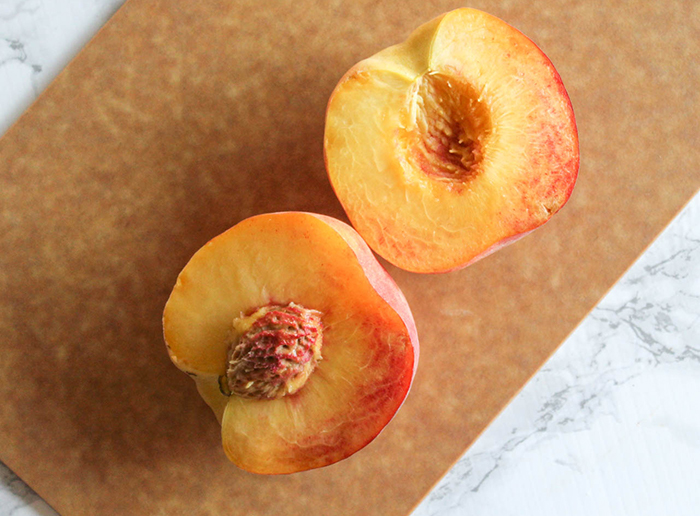 Grill the peaches with the skin on
Leaving the skin on the peaches will help to keep the peaches juicy. The skin will almost fall off once the peaches have been cooked. If you don't like the peach skin, peel it off with a butter knife after it has been cooked.
Leftover Ideas
Serve leftover grilled balsamic chicken and peaches over a bed of greens with a light balsamic vinaigrette and a sprinkle of goat or blue cheese.
Turn the leftover chicken into chicken salad and serve it the peaches on the side.
Make a quesadilla – chop the chicken into bite sized pieces top a tortilla with it along with shredded cheese and diced peppers.
Enjoy leftover peaches with yogurt or ice cream for dessert.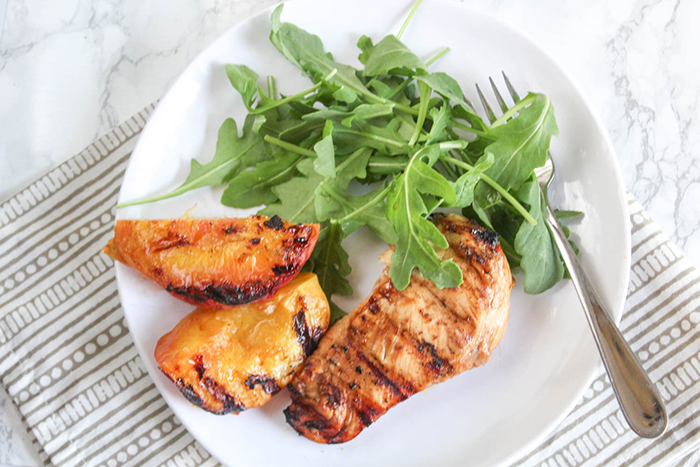 Recipe Variations/Substitutions
Change up the fruit add a few plumbs, nectarines or pineapple slices and grill them with peaches.
Fresh garlic can be replaced with 1 ½ teaspoons garlic powder.
Substitute the chicken for boneless pork chops.
You might enjoy these recipes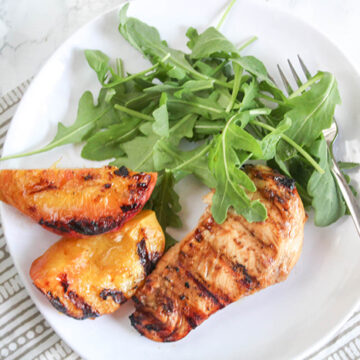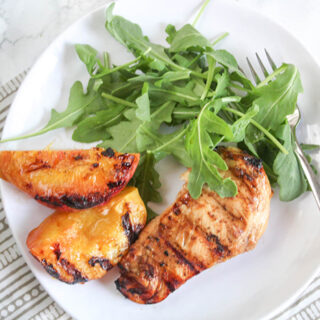 Grilled Balsamic Chicken Breasts with Peaches
Boneless chicken breasts are soaked in a balsamic marinade and grilled with fresh peaches.
Ingredients
1 pound boneless chicken breasts
2 large or 4 small peaches cut in half with the pit removed
MARINADE
3 tablespoons balsamic vinegar
1 clove crushed garlic
1 tablespoon local honey
1 tablespoon dijon mustard
Instructions
Mix all of the marinade ingredients together (1 clove crushed garlic, 1 tablespoon dijon mustard, 3 tablespoons balsamic vinegar, 2 tablespoons olive oil) remove 1 ½ tablespoons and set it aside.
Place the chicken breasts in glass or ceramic dish, pour the marinade over the chicken, marinate in the refrigerator for at least one hour.
Pre-heat a gas grill to medium heat. Place the chicken breasts on one side of the grill and allow them to cook about 5 to 8 to minutes depending on thickness. If they are thick let them cook for 8 minutes and flip them over.
Place the peach slices on the grill flesh side down and cook them for 5 minutes and turn them over.
Continue to cook the chicken breasts until they have reached an internal temperature is 150 degrees.
Remove the chicken and peaches from the grill and serve.
Nutrition Information:
Yield:

4
Serving Size:

¼ pound
Amount Per Serving:
Calories:

269
Total Fat:

5g
Saturated Fat:

1g
Trans Fat:

0g
Unsaturated Fat:

3g
Cholesterol:

96mg
Sodium:

190mg
Carbohydrates:

20g
Fiber:

2g
Sugar:

17g
Protein:

37g
Nutrition information is provided by an online calculator and is meant to be used for informational purposes only. Even though I try to provide accurate information, these figures should still be considered as estimates.