This honey orange chicken recipe is fuss-free to make and it's perfect for busy weeknights. Chicken tenders are cooked in a delicious orange sauce which gives this dish a sweet and savory flavor.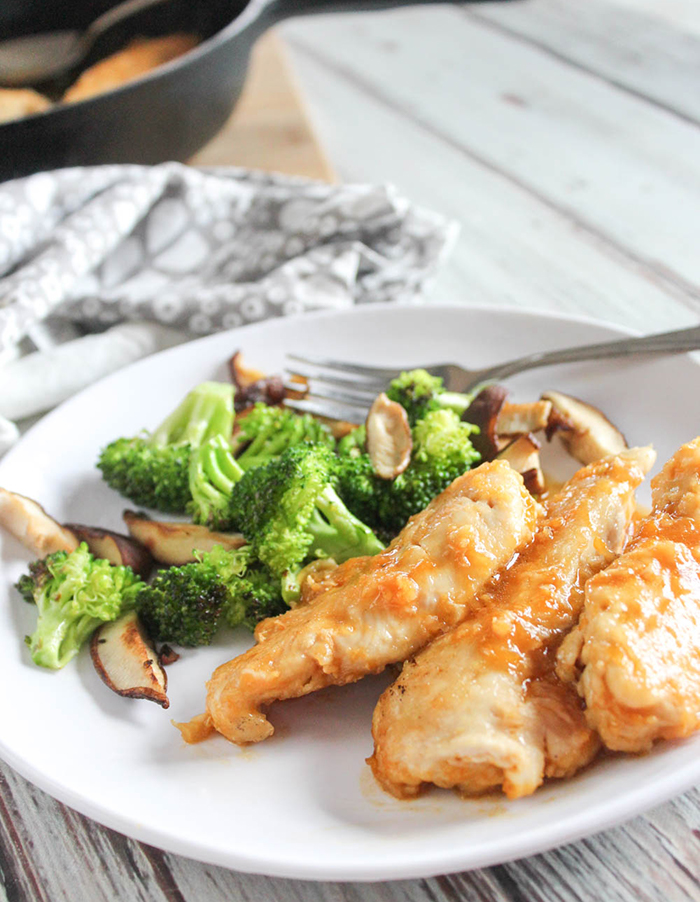 If you like easy dinners as much as we do, try this delicious chicken recipe for honey dijon chicken sheet pan dinner or one pan lemon chicken with broccoli.
Why This Recipe Works
It's healthy! The chicken is sauteed quickly and not deep-fried.
It is a gluten-free recipe. Instead of wheat flour, the chicken is dredged in tapioca flour which thickens up the sauce nicely.
Honey orange chicken recpe is a quick and easy to put together. It's made with nine healthy ingredients and is ready in about 35 minutes.
Here is What You Will Need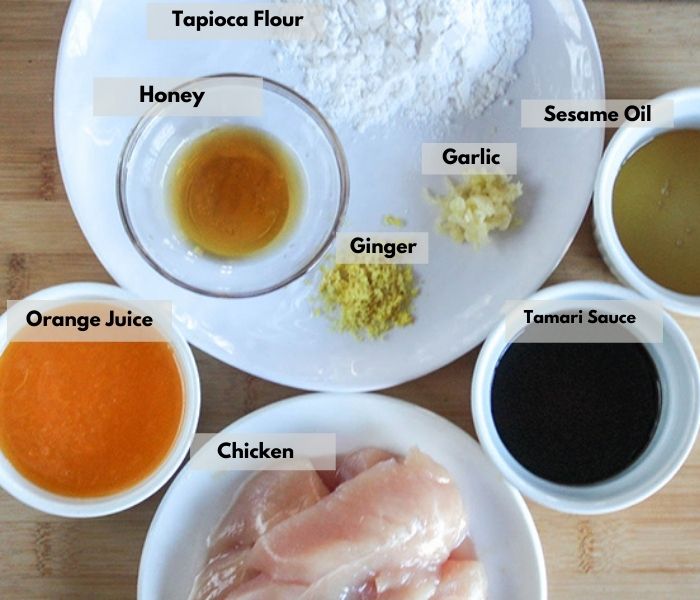 As an Amazon Associate, I earn from qualifying purchases
This is an overview of the ingredients and steps to make this recipe, scroll down for a printable recipe card with exact measurements and instructions.
This an overview of the ingredients and steps to make this recipe, scroll down for a printable recipe card with exact measurements and instructions.
Honey Orange Chicken Ingredient List
Chicken tenders or boneless chicken breasts
Fresh orange juice
Garlic
Fresh ginger
Equipment Needed to Make this Recipe
Here is How to Make Honey Orange Chicken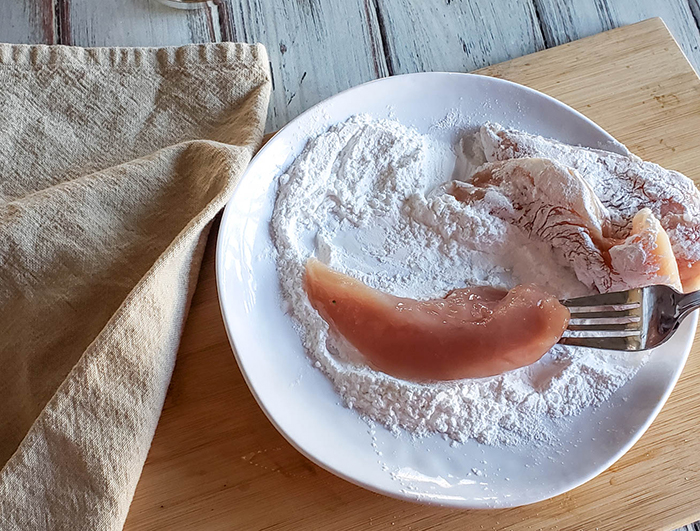 Step 1.
Dredge the chicken pieces into the tapioca flour making sure the entire piece of chicken is coated with the flour.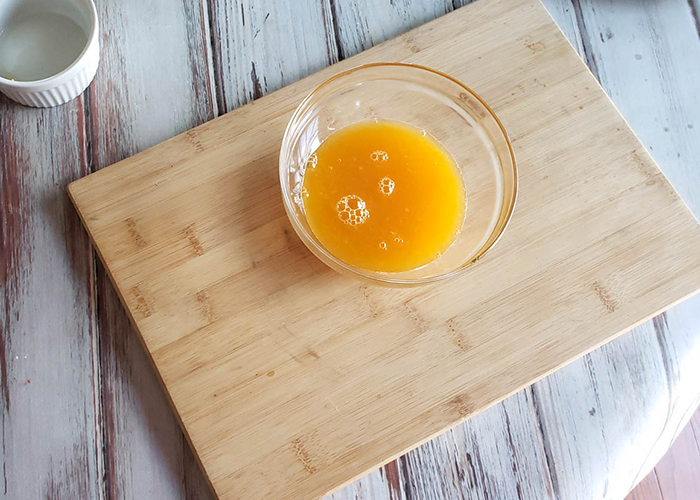 Step 2.
Mix the tamari sauce, honey, orange juice, crushed garlic, ginger and sesame oil together in a small bowl.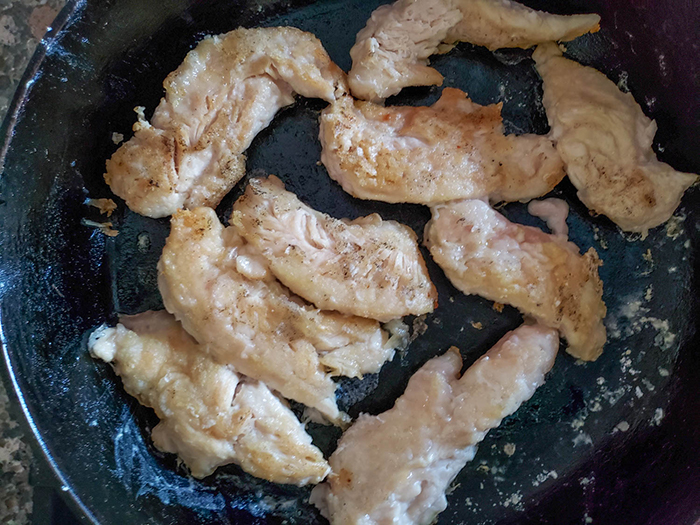 Step 3.
Heat oil in a large skillet over medium-high heat. Once the olive oil is hot, add the chicken pieces. Cook them without disturbing them for about 4 to 5 minutes. At this point, check the underside; they should be starting to to turn golden brown. Flip the chicken over and cook it on the other side until both sides of chicken become golden brown.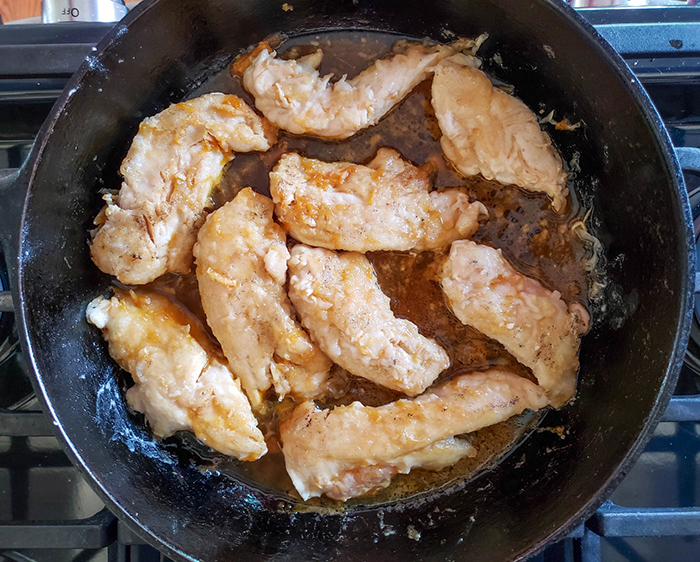 Step 4.
Turn the heat to low medium heat and stir in the orange juice mixture. Let the sauce simmer for a few minutes stirring occasinoally, it should only take about 5 minutes for the sauce to become thick.
Total Estimated Time to Make This Recipe: 35 to 40 Minutes
Make-Ahead Instructions
Honey orange chicken can easily be made ahead of time and assembled just before serving, here's how:
Dredge the chicken tenders and cook them in a skillet. Allow them to cool off and place them in the refrigerator in an airtight container for up to two days.
Mix up the ingredients for the sauce and store the sauce in a separate container.
To serve, heat a little bit of oil in a skillet over medium to high heat and add the cooked chicken tenders and the sauce. Once the sauce bubbles, reduce the heat to low and cook until everything is heated through and serve.
You can also make and cook the sauce ahead of time without preparing the chicken. Store the cooked sauce in the refrigerator for two to three days and reheat it over low heat. Add the cooked chicken.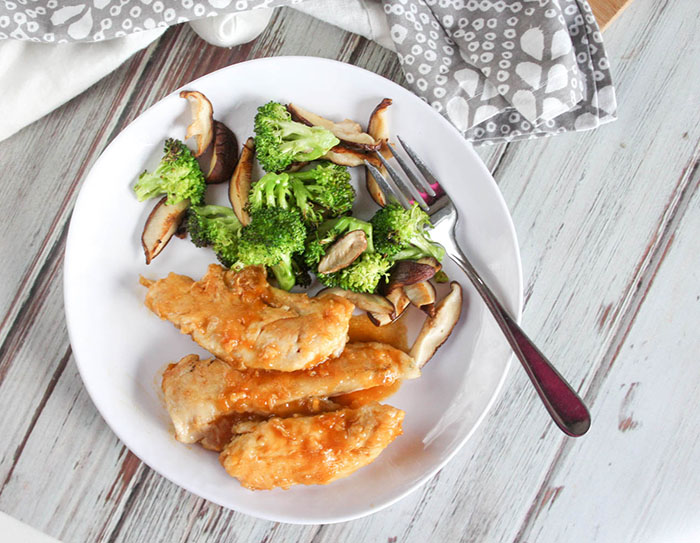 Ingredient Substitutions

Chicken tenders can be substituted with boneless skinless chicken breasts or boneless chicken thighs.
Fresh Garlic can be substituted with ⅛ teaspoon garlic powder.
Fresh Ginger adds a slightly sweet and peppery flavor to this recipe. It can be substituted ground ginger which will not have as strong of ginger flavor but will add sweetness. Use ⅛ to a ¼ teaspoon to taste of ground ginger to replace the fresh.
Tamari sauce is a Japanese version of soy sauce. It's thicker and richer in flavor and can be easily substituted with an equal amount of soy sauce or coconut aminos.
Fresh orange juice can be replaced with an equal amount of bottled orange juice.
Tapioca flour which is a versatile gluten-free flour and is a wonderful thickening agent can be substituted with an equal amount of whole wheat or white flour, arrowroot or ½ the amount of corn starch.
Recipe Tips
Adjust the thickness of the sauce by adding a little bit of water at a time if it's too thick, or a little bit of tapioca flour if it's too thin.
Keep honey orange chicken warm (250 degrees f) in the oven once it's been cooked. Cover the skillet and place it in the oven for no more than 30 minutes.
If you prefer a spicier version of honey orange chicken, add a teaspoon or two to taste of red pepper flakes.
Serving Suggestions
Serve this healthy orange chicken recipe garnished with chopped green onions and sesame seeds.
Honey orange chicken tastes great over steamed brown rice, cauliflower rice, or zucchini noodles with a side of steamed broccoli, roasted Brussels sprouts , roasted asparagus or stir-fried veggies.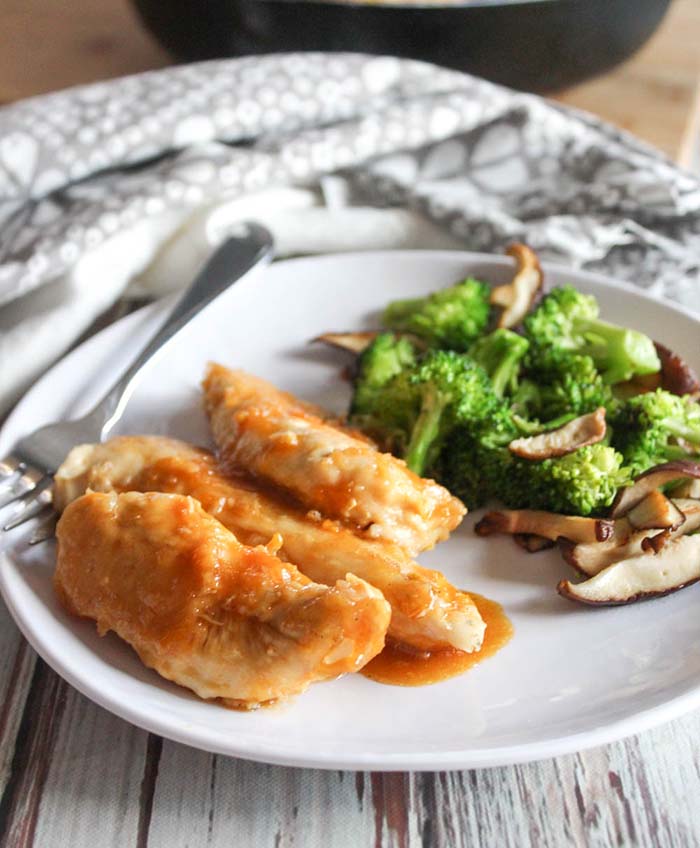 Storing Leftovers
Store leftover orange chicken in the refrigerator for up to four days in an airtight container.
Reheat it on top of the stove until it's heated through in a covered skillet over low heat or in the microwave.
Adjust the thickness of the sauce by adding a small amount of water to thin it out or tapioca flour to thicken it.
You Might Also Like These Recipes
JOIN OUR MAILING LIST TO RECEIVE WEEKLY MENU IDEAS AND MORE!