Spiralized beets, zucchini, and butternut squash make up this simple, yet tasty veggie noodle salad. It's low-carb, gluten free with only a few simple ingredients. It's a great choice for a summer side dish.
This post may contain affiliate links for more information, please see our Disclosure.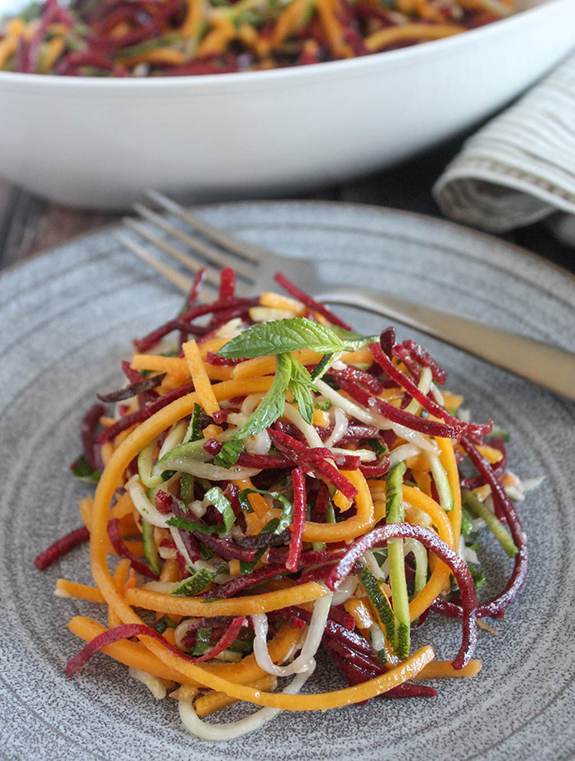 A Quick and Easy Salad Made with Veggie Noodles
This is one of the easiest salads to make! The veggie noodles are not cooked. All you have to do is place them in a bowl and add the dressing and herbs.
You might be thinking raw beets and butternut squash in a salad?
Yes, it's true and it's delicious!
Veggie Noodle salad is slightly crunchy and similar to the texture of coleslaw. It's a little bit sweet, it's lemony, minty and refreshing. It's a great side for your favorite burger or steak sandwich.
If you can find veggie noodles pre-spiralized in your supermarket, you will save even more time. If pre-spiralized noodles aren't available, you will need a spiralizer to make the noodles from veggies.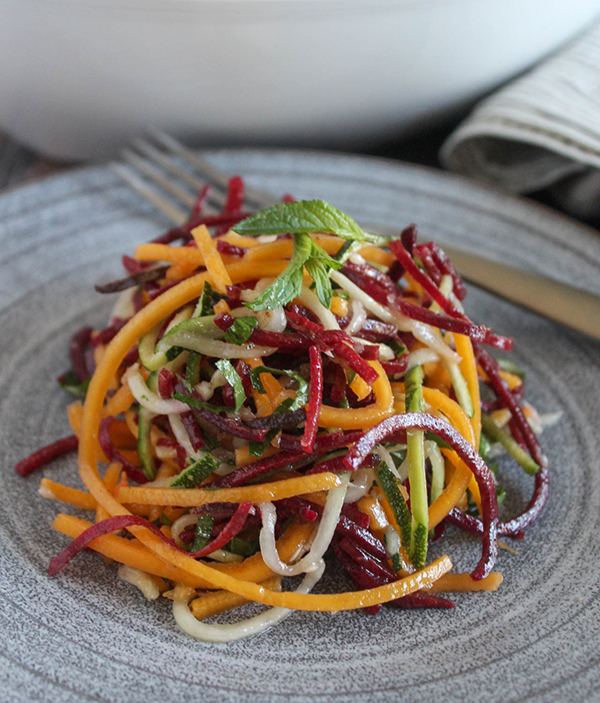 Veggie Noodle Salad Ingredients
As with most of my recipes, you really don't need a recipe to make this. You can use any combination of herbs, and you can even change up the veggies (sweet potatoes?) or dressing that you choose. This combination is my favorite.
Beets
Butternut squash
Zucchini Squash
Chopped Mint
Garlic
Fresh lemon juice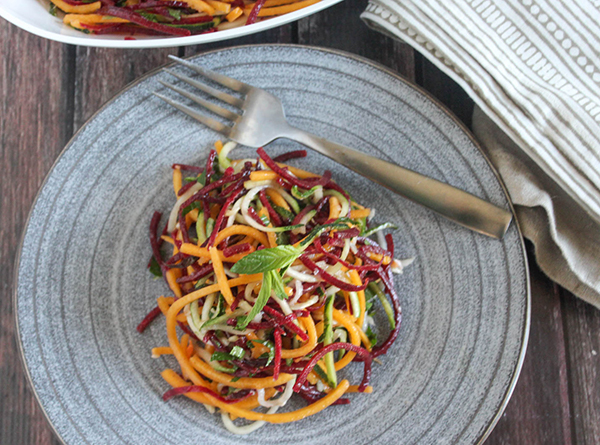 Recipe Steps for Veggie Noodle Salad
Please note that this a list of steps to give you an idea how to make this recipe. Full details are in the recipe card below.
Spiralize the veggies (skip this step if they are already spiralized)
Chop the herbs
Place all of the spiralized vegetables into a bowl
Sprinkle them with sea salt and set aside
Mix up the Dressing
Pat the veggie noodles dry with a towel
Pour the dressing over the vegetables and serve
Total Estimated Time to Make this Recipe: 15 to 25 Minutes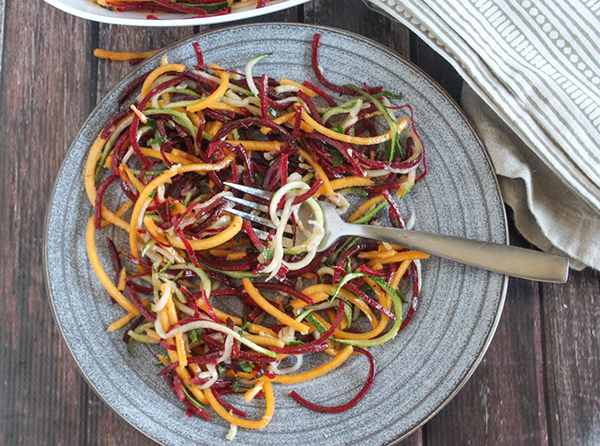 Veggie Noodle Salad Variations
Change up the veggies. Try sweet potatoes, yellow squash, or any firm veggie that you can spiralize.
Replace the lemon juice with balsamic vinegar and add a teaspoon of maple syrup.
Change up the Herbs. Add fresh chopped basil, oregano or lemon balm to the salad.
You Might Also Like These Salad Recipes