Cucumber watermelon salsa is a light and refreshing salsa that captures the flavors of summer.
This salsa is slightly sweet and perfect for dipping or serving alongside grilled seafood or meat. When you add a little bit of spicy onion, jalapeno pepper, and fresh mint to the cucumber and watermelon you have the perfect salsa for a hot summer day.
This recipe was originally posted in 2017, it has been updated for content and photos.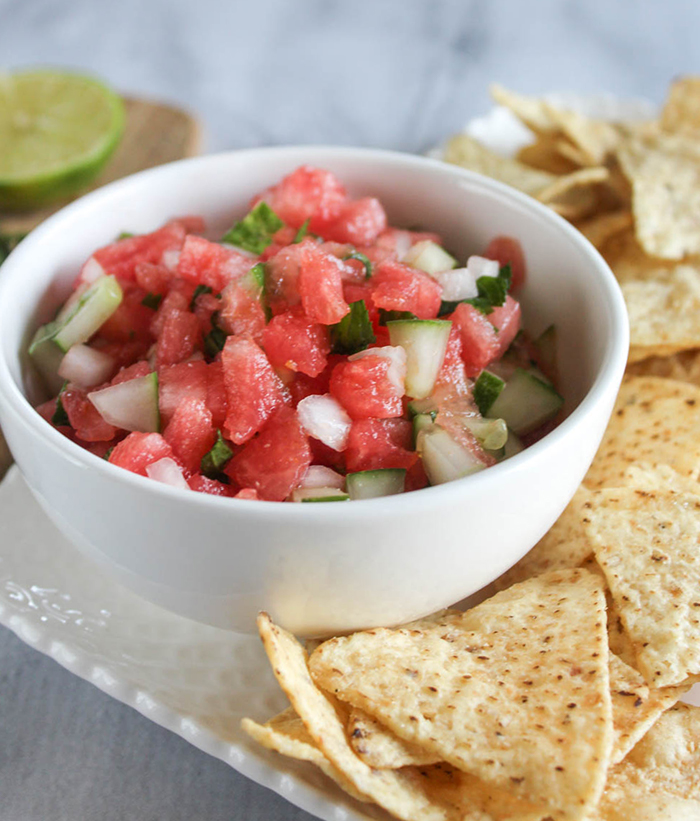 Cucumber watermelon salsa is one of those refreshing salsas that everyone will want more of in the summer months and so is this mango and strawberry salsa.
Recipe Highlights
Watermelon cucumber salsa is light, refreshing, and full of fresh ingredients.
It's an easy recipe to make and it's healthy - the perfect summer salsa!
Here is what you will need to make this watermelon cucumber salsa recipe
As an Amazon Associate, I earn from qualifying purchases.
This is an overview of the ingredients and steps to make this recipe. Scroll down to see a printable recipe card with exact measurements and complete cooking instructions.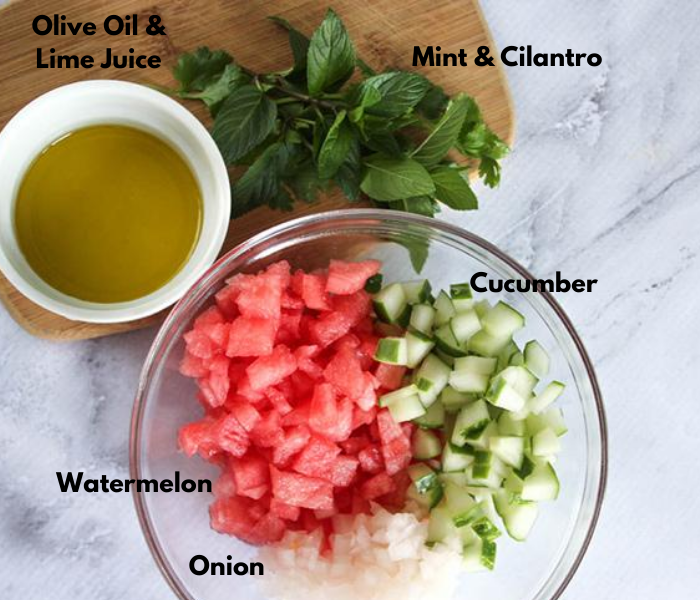 Ingredient List
Fresh watermelon
Fresh cucumbers
Onion
Jalapeno pepper
Fresh mint
Fresh cilantro
Fresh lime juice
Equipment
Small bowl to mix the dressing
Medium bowl to mix the salsa
Here's how to make watermelon cucumber salsa
Make the dressing: whisk together the olive oil and lime juice in a small mixing bowl or a small mason jar.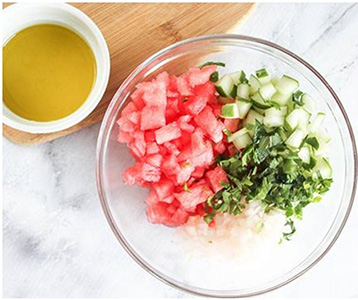 Step 1. Chop the ingredients
Chop all of the ingredients and add them to a mixing bowl.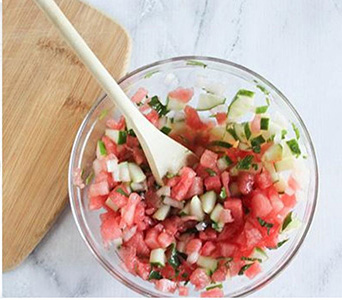 Step 2. Mix the ingredients
Use a wooden spoon to mix all of the ingredients together and pour in the dressing.
Tip! For maximum flavor refrigerate the salsa for at least 30 minutes before serving.
Ingredient notes and substitutions
Watermelon - a fresh ripe watermelon that is seedless works best in this recipe.
Cucumbers - any variety of cucumbers will work. I like to use Kirby or Persian cucumbers.
Onions - small red onion or white onion adds just the right amount of flavor to fresh salsa
Jalapeno Pepper - adds heat to the salsa, if you prefer a milder salsa, use just a little bit of the jalapeno pepper to taste or leave it out completely.
How to make and store this sweet watermelon and cucumber salad ahead of time
Cucumber and watermelon salsa can be made several hours to a day ahead of time and stored in the refrigerator. In fact, for the best flavor, salsa should be made at least an hour ahead so that all of the flavors can blend together.
Store leftover salsa in the refrigerator in a glass airtight container for up to 3 days.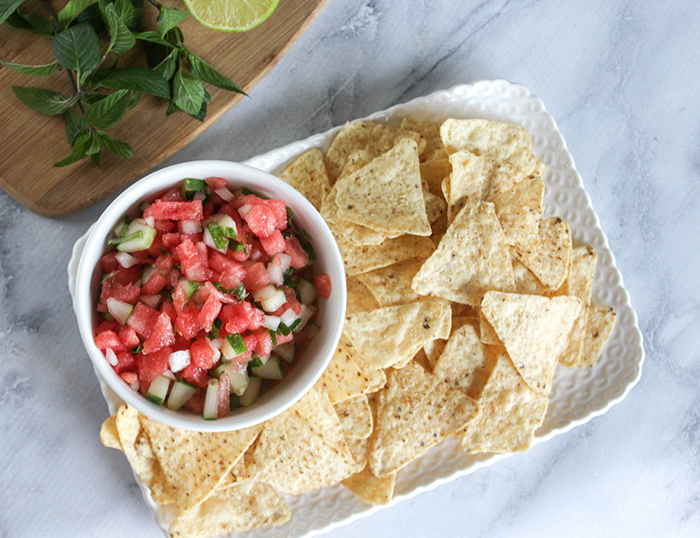 Serving Suggestions
Cucumber watermelon salsa tastes great as a dip with tortilla chips or serve it at your next summer party on top of grilled chicken, pork or seafood.
Watermelon cucumber salsa variations
Cucumber watermelon fruit salad. Instead of chopping the cucumber watermelon salad into small pieces, cut them into larger chunks and serve it as a refreshing salad.
Change up the fruit. Use any combination of diced cantaloupe, honeydew melon or even tomatoes to the salsa.
Change up the herbs. Try using any combination of fresh basil leaves, oregano, lemon balm, or any of your favorite herbs.
Change up the dressing and replace the lime juice with an equal amount of balsamic vinegar or lemon juice.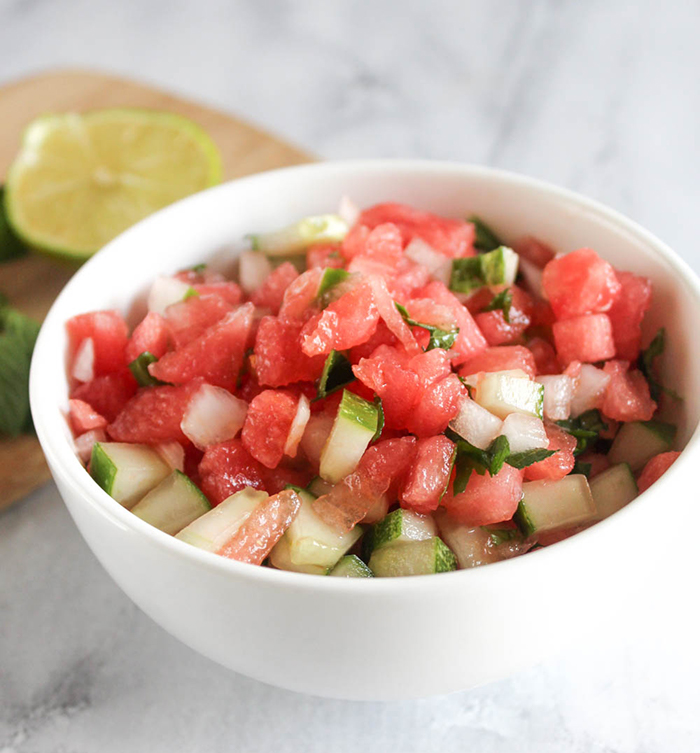 For more simple and delicious recipes like this, subscribe to our newsletter and receive a free e-book and meal suggestions straight in your inbox!
Recipe Tips & Questions
For a shortcut, look for pre-cut watermelon chunks in your produce section to save time!
To easily chop fresh herbs, roll the leaves and cut them with kitchen scissors.
To peel or not to peel a cucumber?
Cucumbers are in their healthiest form when they are not peeled. If the skins are tough, you can peel them completely, or partially peel them. Otherwise, leave the peels on and enjoy the extra health benefits.
You Might Also Like these Salsa Recipes
If you like this recipe, please comment and rate it below!
Check out more of our salsa and dip recipes here!