Cucumber watermelon salsa is a fresh, light salsa.  It's sweet and spicy and it's perfect for dipping or a side for grilled seafood or meat.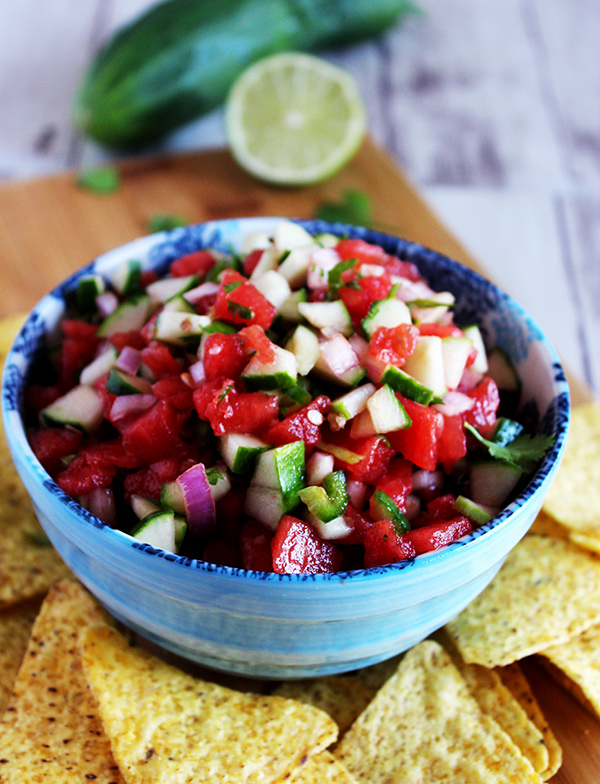 Two things I absolutely love in the summer are cucumbers and watermelon.  They are both so light in flavor and refreshing at the same time.  In fact, I  can't think of anything that is more refreshing than the two of them together, that's why I like to make this salsa.
Cucumber Watermelon Salsa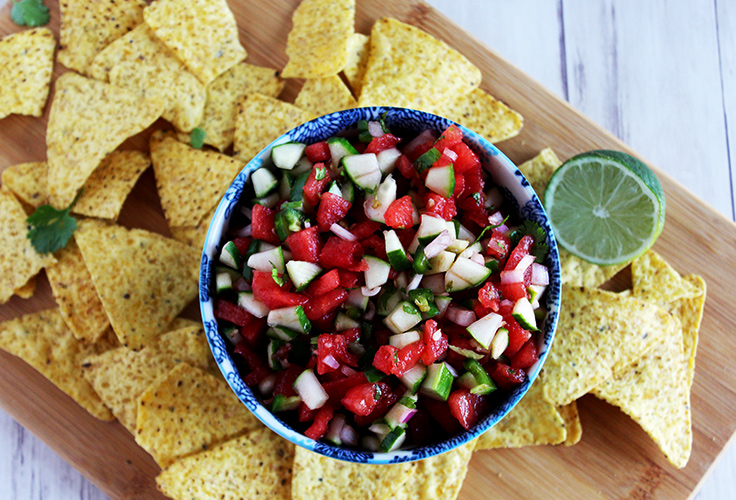 When you add a little bit of spicy onion, jalapeno pepper and fresh mint to the cucumber and watermelon you have the perfect summer salsa. Not only does it taste amazing, I think it looks pretty amazing too! Doesn't this salsa scream summer is here?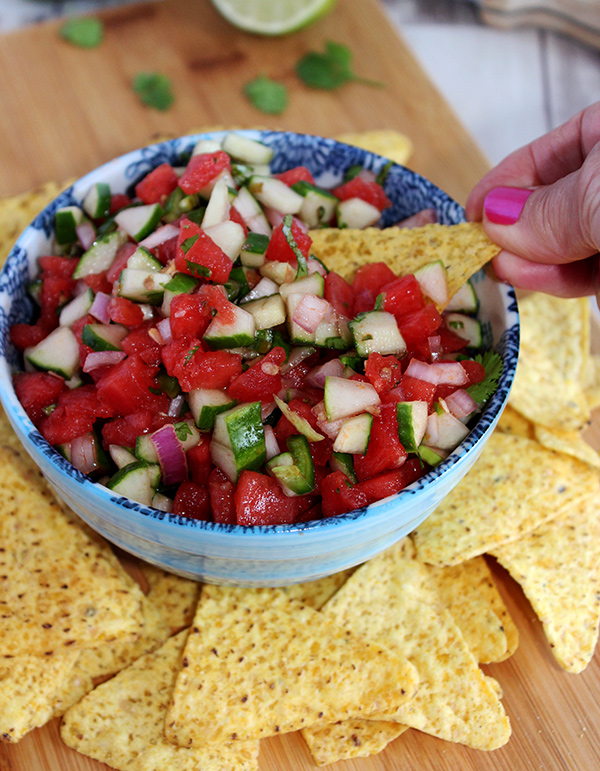 Mix up some cucumber watermelon salsa for your next get-together,  grab some chips and dig in!  For best results, allow it to sit for at least  30 minutes.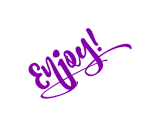 Print
Cucumber Watermelon Salsa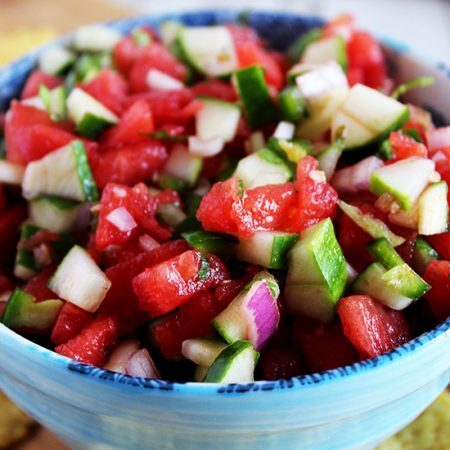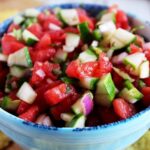 This is the perfect salsa for summer!  It's slightly sweet and a little bit spicy.
Scale
Ingredients
1 cup diced cucumber
1 cup diced seedless watermelon
1/2 cup minced onion
1 tablespoon fresh lime juice
1/2 tablespoon olive oil
a handful of fresh mint or cilantro or both chopped fine
Instructions
Slice cucumbers into quarters vertically, using a knife remove the seeds and set aside. Then dice the cucumber and place into a bowl.
Chop up the watermelon into small pieces that are the same size as the cucumber, and place into the bowl with the cucumber
Dice onion and place the bowl
Add the chopped herbs to the bowl
Mix the lime juice and onion together and pour over all; gently stir
Keywords: salsa, cucumber, watermelon, salsa recipe
Change it up!  This recipe is naturally gluten-free, dairy-free and vegan.  But you can try swapping out the watermelon for cantaloupe, honeydew, or even tomatoes.  You can also change up the herbs too!  We like cilantro, basil, and mint.
If you like salsa as much as we do, check out this mango salsa or this grilled pineapple salsa.
***Please note that there are affiliate links on this page. This means that if you follow one of the links and make a purchase we will receive a small percentage of the sale at no extra cost to you. This helps us to continue to bring you good content. Thank you for your support! Simple and Savory is a participant in the Amazon Services LLC Associates Program, an affiliate advertising program designed to provide a means for sites to earn advertising fees by advertising and linking to amazon.com.***