Vegan cream of broccoli soup is rich, creamy and filled with fresh broccoli. It's a comforting, warming and nutritious soup that is easy to make.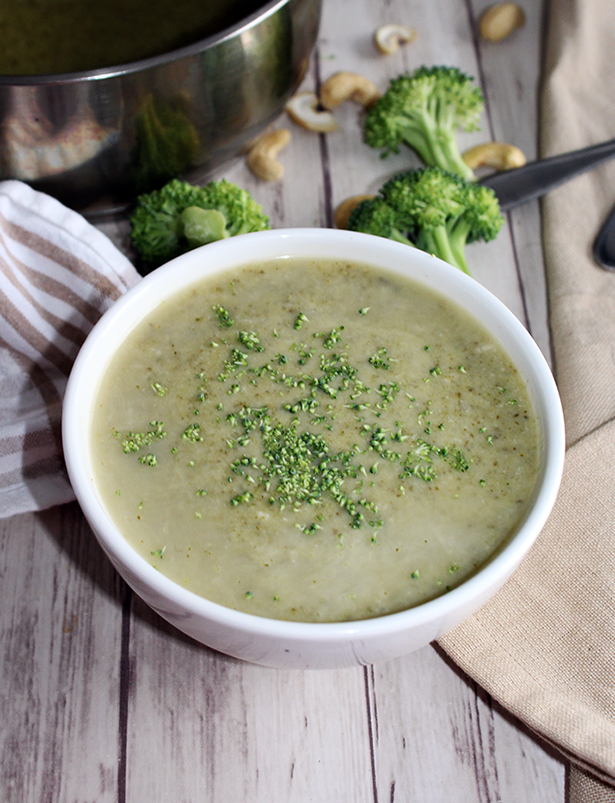 Here is what you will need
Fresh broccoli
Water
Onion
Garlic
Soup or stock pot
Estimated time to make this recipe: 40 to 50 minutes
A Hearty and Delicious Soup
Don't let the word vegan scare you away, this soup is delicious!
Last month I shared a recipe for quick and easy cream of broccoli soup which is made with very little cream and a lot of broccoli.
This vegan version of broccoli soup is made the same way. It's filled with broccoli and just a little bit of homemade cashew cream. It is just as rich and creamy as broccoli soup made with dairy.
I served the vegan and dairy version of the soup side by side to my family and they could not tell which soup was the vegan version.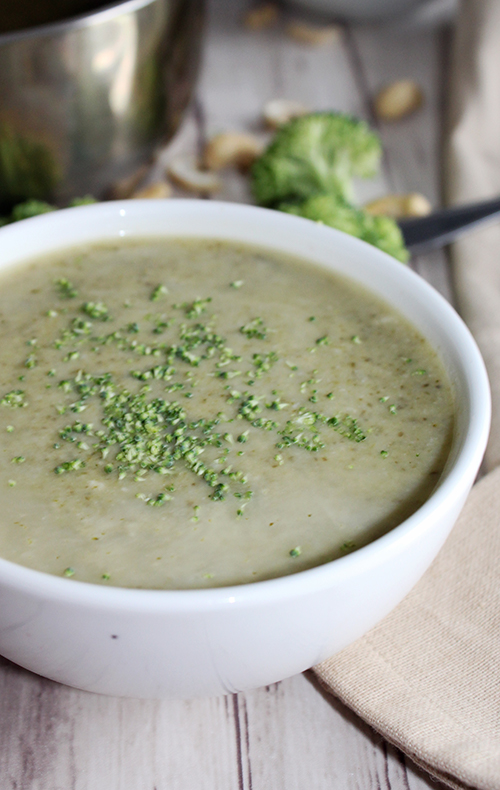 Recipe tips and suggestions
Cashew cream substitute
To speed things up, you can easily substitute the homemade cashew cream with a packaged cashew milk or your favorite nut milk.
Make a vegan and non vegan version
Make this soup for a mixed crowd - after the broccoli has been cooked and blended, divide it in half and add ¼ cup milk to one portion and ¼ cup cashew cream to the other portion for a vegan and non vegan version.
Vegan cream of broccoli and cheese soup
Add a tablespoon of nutritional yeast to the soup just before serving for a cheesy soup.
Leftover Cashew Cream Ideas
You will have extra cashew cream, add some garlic and nutritional yeast for a cheesy dip or try this vegan queso dip
Leftover soup storage
Vegan broccoli soup will last in the refrigerator for 2 to 3 days, or it can be frozen in an freezer container for up to 3 months.
You Might Also Enjoy These Vegan & Vegetarian Recipes