Grilled vegetables are tossed with quinoa in a lemony vinaigrette to make up a flavorful bowl of grilled vegetable quinoa salad. It's a vegan and gluten-free salad.
Get your veggie grilling on and make this salad. It's perfect to serve to your family or to bring to your next pot luck. Here is what you will need to make this grilled veggie quinoa salad: quinoa, zucchini, red bell pepper, portobello mushrooms, red onion, olive oil, garlic, lemon juice, Dijon mustard and sea salt.
Today's #SummerGrilling recipe has been sponsored by Hamilton Beach however, all opinions are my own. #ad #SPONSOR #SummerGrilling #HamiltonBeach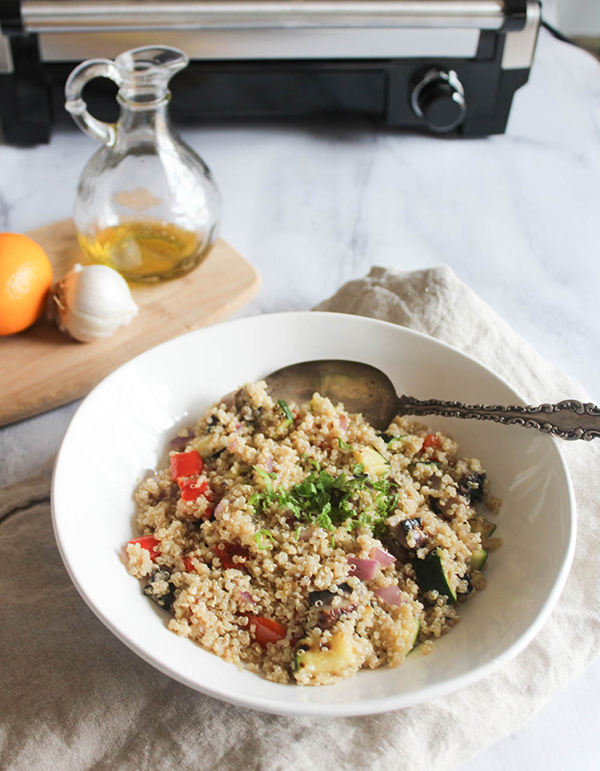 This post may contain affiliate links see our Privacy Policy.
This veggie quinoa salad is full of flavor,it's portable and the perfect solution to bring to pot lucks and picnics. You can also make this for your family and serve as a side dish or a main meal. It's a super easy salad to make especially when I use my new kitchen toy, the Hamilton Beach® Indoor Searing Grill to cook the veggies for this salad.
I love grilling outside when it's warm, but it's not fun to grill when it's really cold out. This Hamilton Beach Indoor Searing Grill solves that problem because you can grill indoors with it! It's so handy, easy to clean and look at those grill marks! It's the perfect solution for grilling all year long!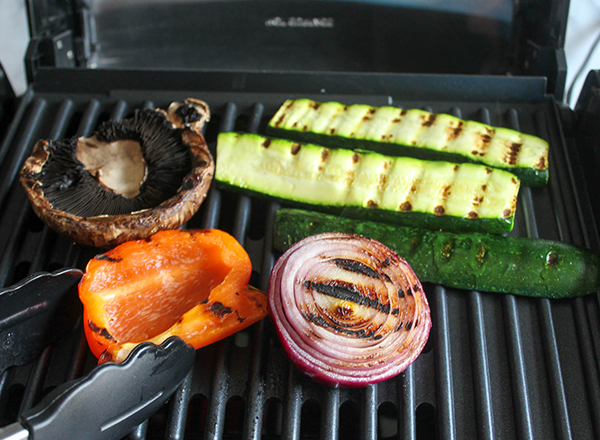 Here is how to make Grilled Vegetable quinoa salad
Please note that this is a list of steps to give you an idea of how to make this recipe. Full details are in the recipe card below.
Heat the grill
Cook the quinoa
While the quinoa is cooking, brush the vegetables with garlic and oil
Place the vegetables on the pre-heated grill and grill them
Once vegetables are cooked chop them into bite-sized pieces and add them to a bowl
Once the quinoa has cooked add it to the bowl with the vegetables
Mix up the dressing and pour it over the salad and stir
Total Estimated Time Start to Finish approximately 30 to 40 minutes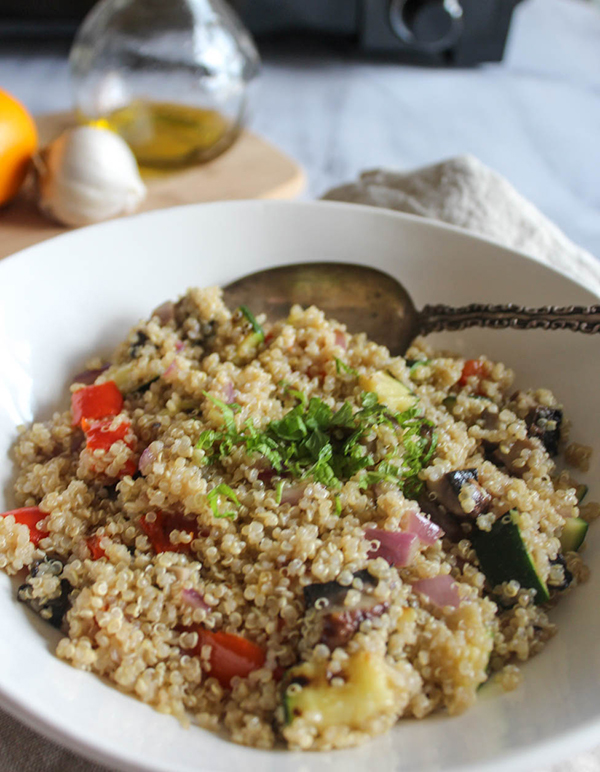 Tips and Variations for Making Grilled Vegetable Quinoa Salad
Tips
The best quinoa to use is red or white, which are the two most popular colors of quinoa. White is the is the fastest cooking, and red quinoa takes a few minutes longer. Red quinoa is a bit more chewy and nutty in flavor. You can use both for a more colorful salad. Cook ½ cup of each and mix them together after they are cooked.
Rinse the quinoa to remove quinoa's outer coating which is called saponin and can give it a bitter flavor. Although there is a good chance that quinoa has been pre-rinsed, it doesn't hurt to run it under water before cooking.
Cut the vegetables into similar sized pieces before cooking which will allow even cooking.
Leave the skin on the zucchini, it will be easier to grill and the skin adds flavor and nutrition.
Variations
This is a salad that you can customize to your taste. Swap out or add in any of the following:
Chopped veggies such as tomatoes, eggplant, yellow squash, grilled asparagus, or olives
Add in feta, Parmesan or goat cheese
For a cheesy vegan version sprinkle in 1 tablespoon nutritional yeast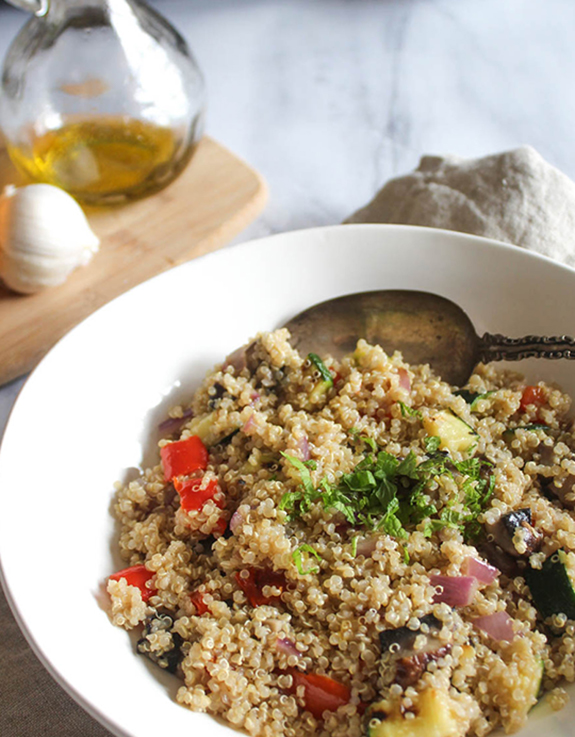 Serve Your Grilled Veggie Quinoa Salad with
Tuna Steaks with Strawberry Mango Salsa