This blueberry bbq sauce recipe is going to be your new favorite BBQ sauce. It's perfect for grilling season and pairs well with grilled pork tenderloin, pork chops, ribs, chicken breast, thighs, or chicken wings.
This recipe was originally posted in 2019, it's been updated for content and photos.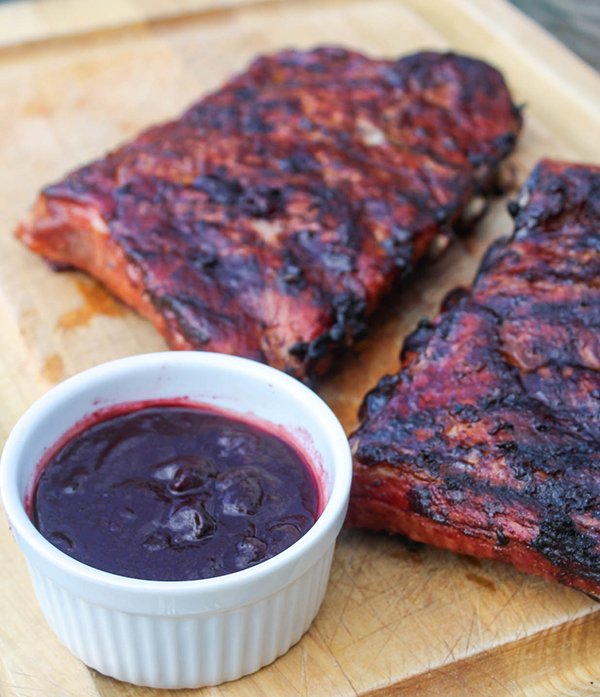 Homemade BBQ sauce is much tastier than any bbq sauce you can buy in the grocery stores, and the delicious fresh blueberries are a perfect addition to add natural sweetness.
Slather homemade blueberry sauce on grilled ribs, or chicken thighs and serve them with a side of homemade coleslaw for a delicious BBQ dinner.
Why this Recipe Works
It's easy to make with very little hands-on time.
It's healthy; naturally sweet and blueberries have numerous health benefits.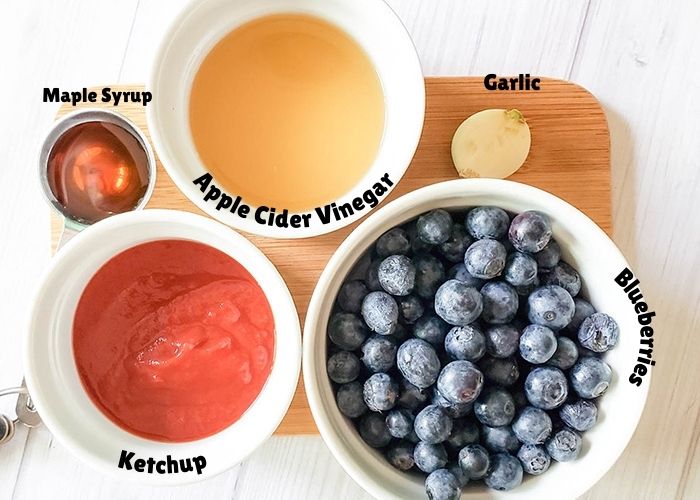 Here is What You Will Need
As an Amazon Associate, I earn from qualifying purchases
This is an overview of the ingredients and steps to make this recipe; scroll down for a printable recipe card with exact measurements and instructions.
Ingredients
Equipment
immersion blender, regular blender or a food processor( helps to make the sauce smooth)
How To Make blueberry barbecue sauce
Prepare the ingredients: rinse and dry the blueberries, chop the garlic and measure the ketchup, vinegar, and syrup.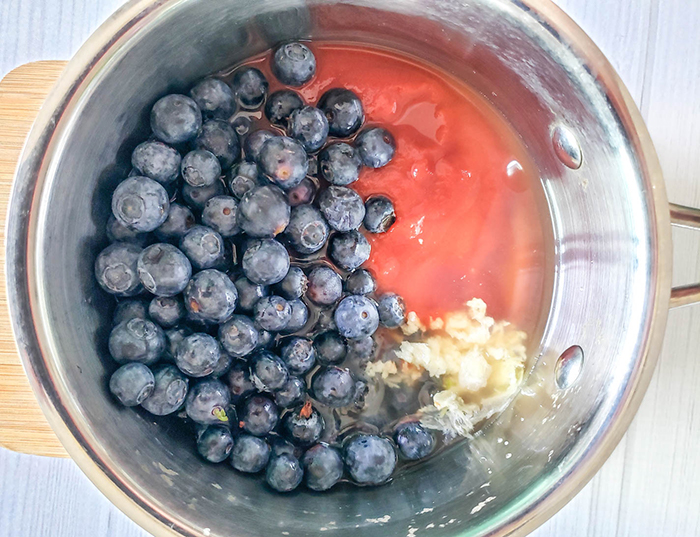 Step 1. Place the ingredients into a saucepan
Place all of the ingredients into a saucepan and mix everything together. Set the heat to medium-high.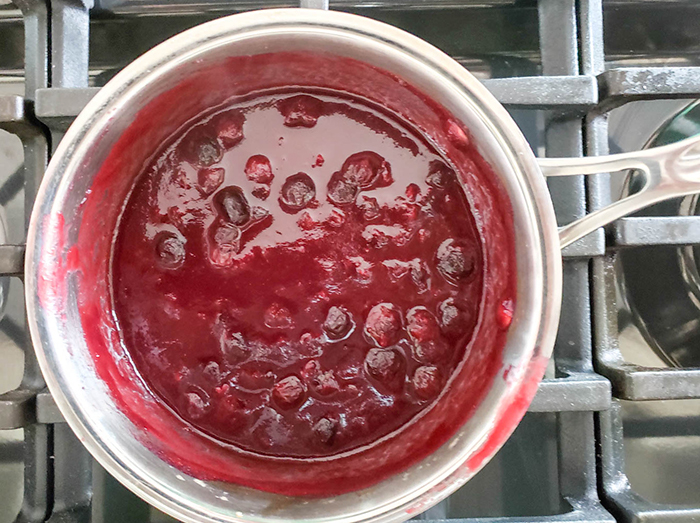 Step 2. Simmer the Sauce
Cook the sauce over medium-high for a few minutes until it begins to bubble. Reduce the heat to low heat and cook the bbq sauce for 30 to 35 minutes.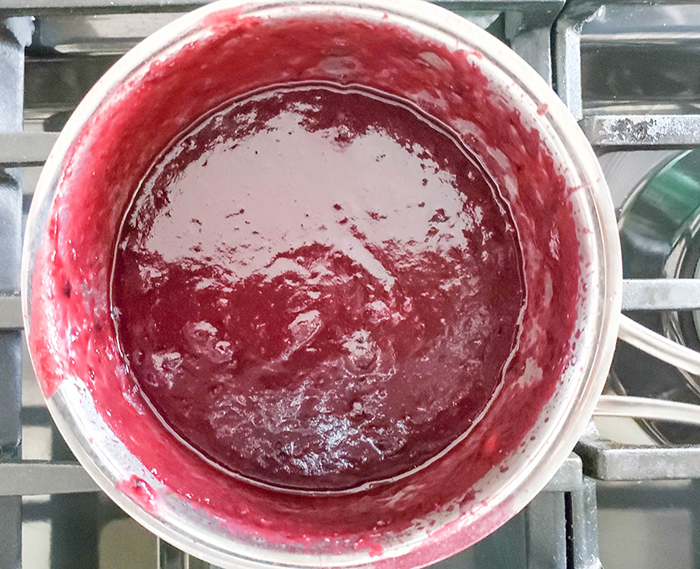 Step 3. Adjust the Sauce
This delicious sauce will be ready once the blueberries turn soft, but the sauce will be chunky. If you like a smooth consistency, use an immersion blender or food processor to puree the sauce.
Tip! The sauce will be chunky from the blueberries. Use an immersion blender or blender to thin the sauce out.
Ingredient Notes & Substitutions
The full list of ingredients to make this blueberry barbecue sauce recipe is above. Below are notes about some of the ingredients along with ideas for substitutes.
Blueberries - Fresh or frozen blueberries will work in this recipe. If you use frozen, thaw them out and drain them before adding them to the sauce.
Ketchup - Any ketchup can be used in this recipe, I prefer unsweetened ketchup, but it's your choice.
Thick tomato puree - can be substituted for ketchup in this recipe.
Apple Cider Vinegar - can be replaced with white vinegar or balsamic vinegar for a sweeter-tasting blueberry barbecue sauce.
Maple Syrup can be replaced with an equal amount of honey or brown rice syrup.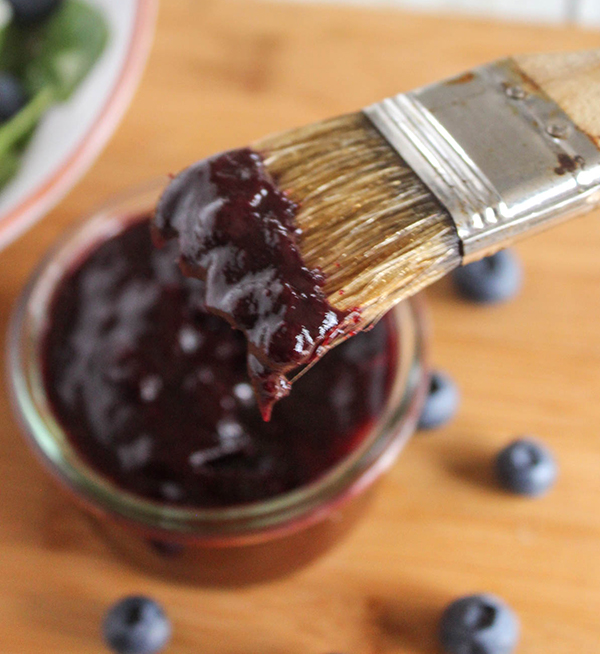 How to Store Blueberry Barbecue Sauce
Store blueberry BBQ sauce in the refrigerator in a mason jar or in an airtight container for up to five days.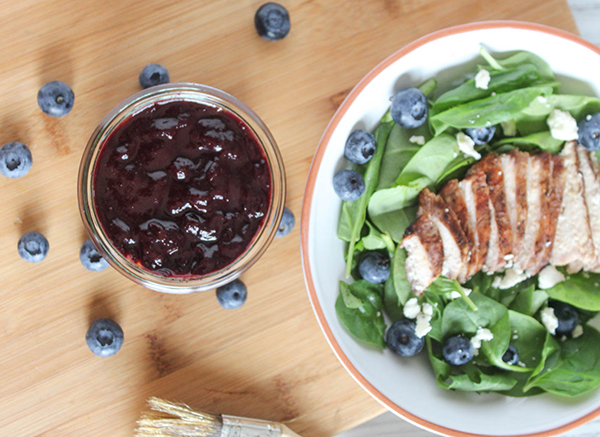 Start grillings with high-quality and humanely raised meat from ButcherBox!
Recipe Variations
Change up the fruit - Instead of blueberries, use 1 cup of fresh or frozen raspberries, blackberries, or a combination of fresh berries.
Make it spicy - Add a tablespoon of chipotle chile powder, and chopped chili papers, jalapeno peppers or red pepper flakes.
Burbon Blueberry BBQ Sauce - Add a quarter cup of bourbon to the saucepan when cooking the sauce.
For more simple and delicious recipes like this, subscribe to our newsletter and receive a free e-book and meal suggestions straight in your inbox!
Questions & Tips
Can I freeze leftover blueberry barbecue sauce?
Yes, you can freeze leftover blueberry bbq sauce. Place room temperature bbq sauce into an airtight container and freeze it for up to three months. Defrost it in the refrigerator overnight.
At what point of grilling do you add the bbq sauce to the meat?
To prevent over-charring, brush the sauce on a few minutes before serving.
You Might Also Like These Recipes
If you like this recipe, please comment and rate it below!
Check out more of our homemade sauce recipes here!