Smashed cucumbers with Vinegar are cucumbers that are gently smashed and broken into pieces then dressed in vinegar for a refreshing salad.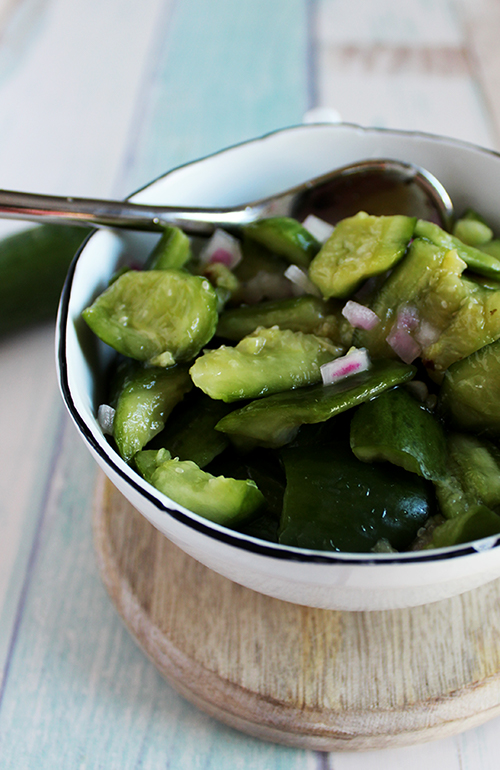 Smashing cucumbers is a technique that's used in some Asian cuisines and a brilliant technique at that!  When you smash cucumbers into bite-sized pieces, it allows the rough surfaces of the cucumbers to absorb the dressing without getting soggy.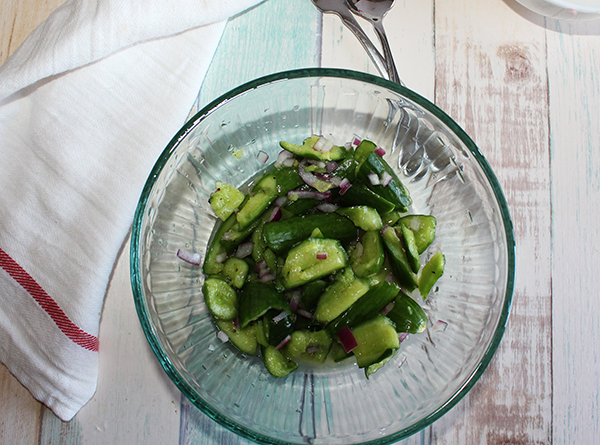 This is a fun dish to make too; grab a  knife, rolling-pin or a cast iron pan and smash those cukes.  Once they are smashed, use your hands to break them into pieces, sprinkle with salt and add dressing, and that's it!
Smashed cucumbers are usually dressed in  Asian dressing, but any kind of dressing will work. This recipe is made with vinegar, a little bit of honey and onions.  Once the dressing soaks in, they taste almost like a quick pickle and they taste great with  favorite burgers, like this bison burger.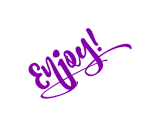 Print
Smashed Cucumbers with Vinegar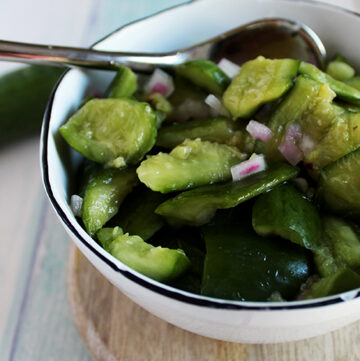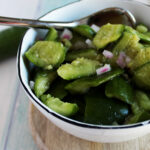 A cool and refreshing salad that's made with smashed cucumbers and vinegar
Scale
Ingredients
4 to 5 Persian cucumbers or 2 English
1 tablespoon sea salt
1/4 cup diced red onions
1/8 cup apple cider vinegar
1 1/2 teaspoons  honey or maple syrup
dash of pepper
Instructions
using the side of a knife or a rolling pin, smash the cucumbers
break them apart with your hands and place into a bowl
sprinkle with sea salt and allow to sit for an hour until they release liquid
do not drain cucumbers, add vinegar, honey and onions and mix well
sprinkle with pepper and serve or refrigerate
Keywords: salad, cucumbers and vinegar,cucumber salad
It's National Picnic Day, check out these recipes from my blogging friends…