Chicken chopped salad is a fresh and colorful salad made with an assortment of fresh ingredients tossed with a homemade lemon vinaigrette. It's perfect for lunch or a quick and healthy dinner.
What's not to like about salad for dinner? Salads are filled with healthy ingredients, and there isn't much cooking involved which is why this chicken chopped salad and Asian Pasta Salad with Chicken are in our easy dinner rotation lists.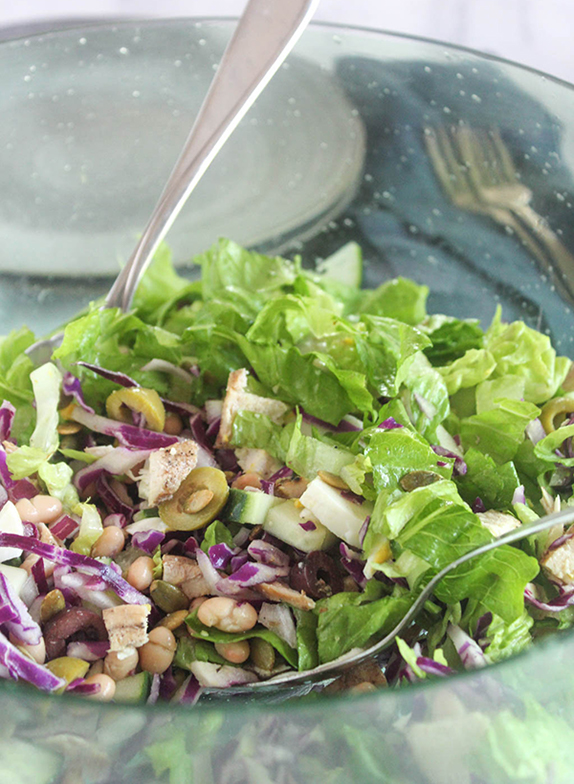 Recipe Highlights
It's a great way to use up left over food in your fridge.
Chicken chopped salad is a healthy and easy dinner idea.
It can be made ahead of time and is very customizable; use any combination of ingredients that you like.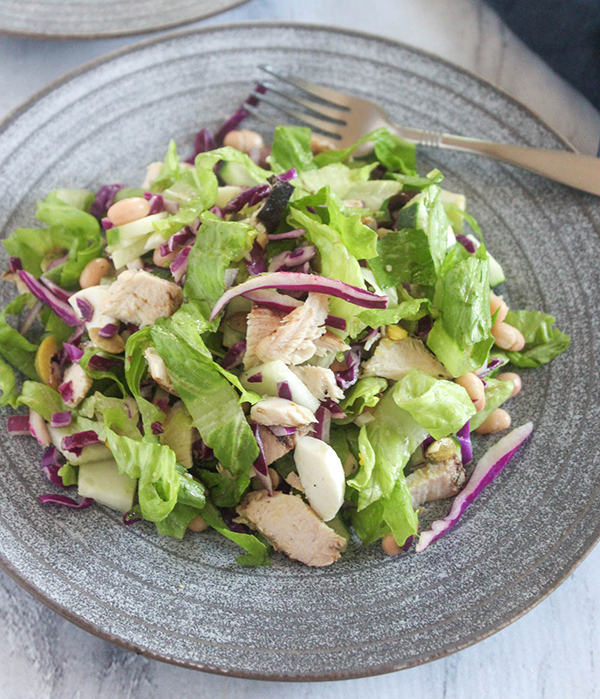 Chicken Chopped Salad Ingredients
You can use as many different ingredients as you like to a chopped salad, the possibilities are endless. I start with a base and build my salad from there. Here is a list of base ingredients followed by the ingredients I used to make this chopped salad recipe.
Base Ingredients
Lettuce such as romaine, bibb lettuce, field greens
Cucumbers or zucchini
Purple cabbage
Chopped onions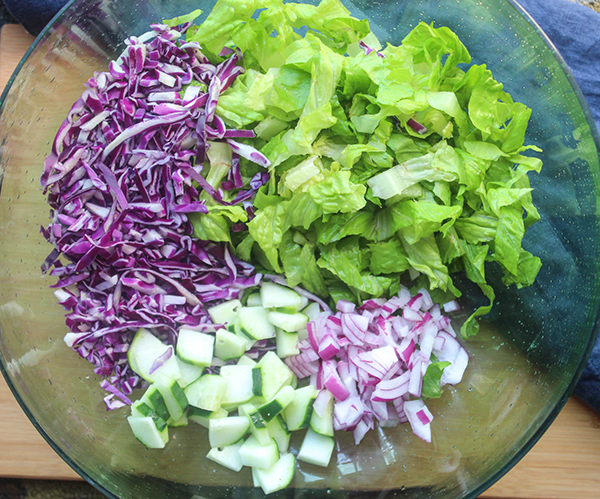 Additional Ingredients used to make this salad
Hard-boiled egg
Grilled or shredded chicken breast
White Beans or Chickpeas
Olives
Crumbles of blue cheese, feta or shredded cheddar
Dressing
Fresh lemon Juice
Olive oil
Dijon mustard
Maple syrup
Crushed garlic
How to Make the Best Chicken Chopped Salad
Prepare the ingredients: chop up the vegetables into bite-sized pieces and add them to a large salad bowl. Drain and rinse the beans and add them to the bowl along with the olives.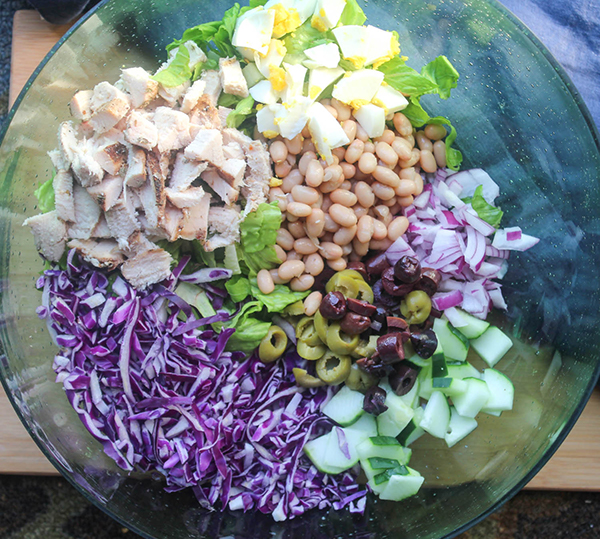 Whisk the dressing ingredients in a bowl and pour ¼ of the dressing over the salad, toss and sprinkle with cheese. Serve the remainder of the dressing on the side.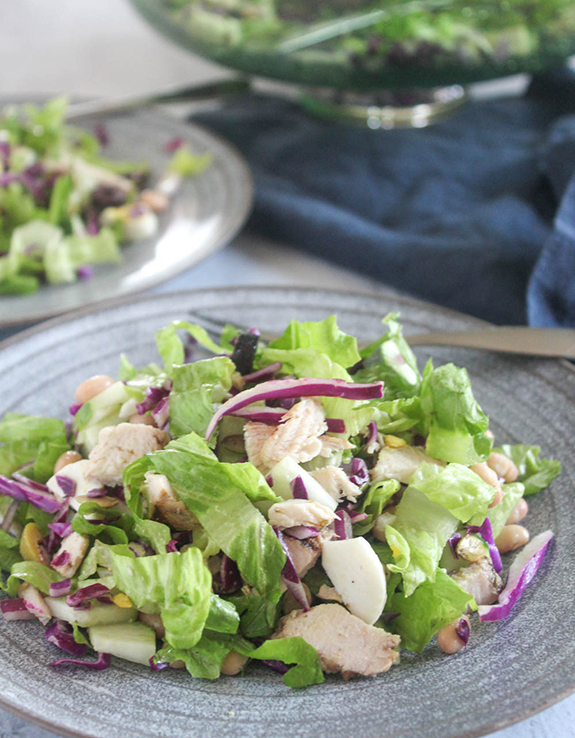 Ingredient Notes and Substutions
Instead of chicken, try bite sized pieces of streak, shrimp or salmon.
Garlic can be substituted with ⅛ teaspoon of garlic powder.
Make it vegetarian or vegan by adding grilled or roasted tofu in place of the meat, and leave out the cheese for a vegan version.
Add More Vegetables and use any combination of bell peppers, celery, broccoli, cauliflower, avocado, shaved brussels sprouts, shredded carrots, tomatoes, artichoke hearts, hot peppers slices.
Add more protein and crunch with a sprinkling of nuts and seeds such as pumpkin seeds, sunflower seeds, almonds or walnuts.
Change up the beans with any combination of white beans, chickpeas, black beans or kidney beans.
Make-Ahead Instructions
Chicken chopped salad can be easily prepared ahead of time by chopping the ingredients and store them in the refrigerator in separate containers for up to three days.
To Serve the chopped salad, place the ingredients into a bowl and add a little bit of dressing just before serving, add the cheese, toss and enjoy.
How to store leftover chopped chicken salad
If there is any of this delicious chicken salad leftover, it can be stored in an airtight container for up to a day in the refrigerator with dressing on it. If it is not dressed, it will last for two to three days in the refrigerator.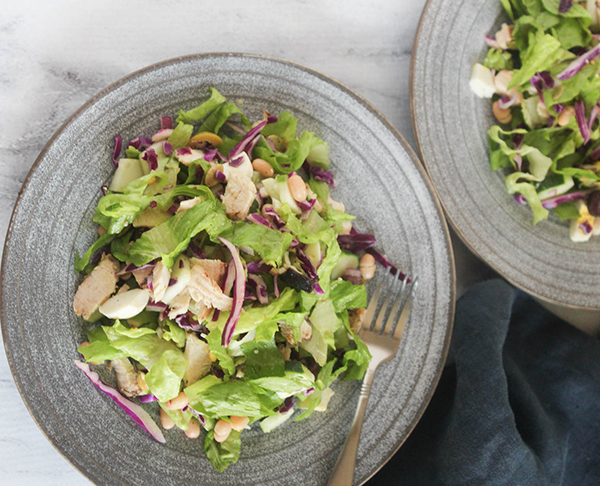 For more simple and delicious recipes like this, subscribe to our newsletter and receive a free e-book and meal suggestions straight in your inbox!
If you like this recipe, please comment and rate it below!
You Might Also Like these Chopped Salad Recipes