Zucchini rolls with guacamole are a light and delicious appetizer roll that you can easily make in your kitchen. They're a low-carb, and refreshing appetizer that is perfect for summer entertaining.
The zucchini combined with spicy guacamole will have you reaching to grab one more roll after just one bite!
This recipe was originally posted in 2018, it's been updated for content and photos.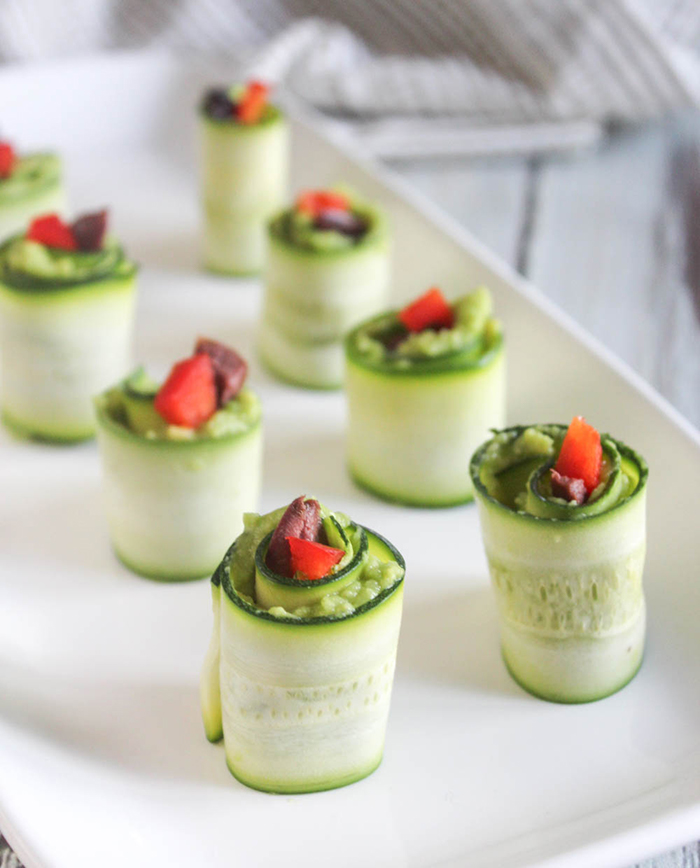 We love appetizers that are flavorful, simple and light. That's exactly what these zucchini roll-ups are with a filling of spicy guacamole made fresh from scratch!
Why This Recipe Works
Zucchini rolls stuffed with guacamole are healthy and delicious.
They are low carb and gluten-free!
An easy to make appetizer made with fresh ingredients.
As an Amazon Associate, I earn from qualifying purchases.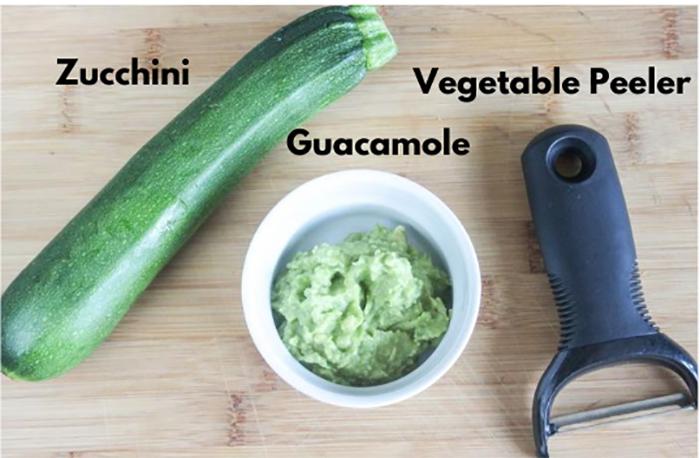 ---
Ingredients
Guacamole (here is my recipe for homemade guacamole)
Zucchini
Diced tomatoes, pickles or olives for garnish

---
Here is How To Make Zucchini Appetizer Rolls
If you are using homemade guacamole, make the guacamole and set it aside.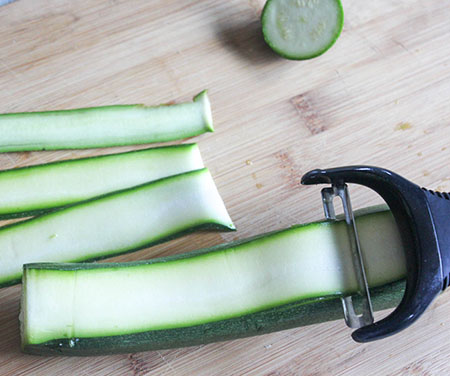 Step 1. Use a vegetable peeler to thinly slice the zucchini into thin strips.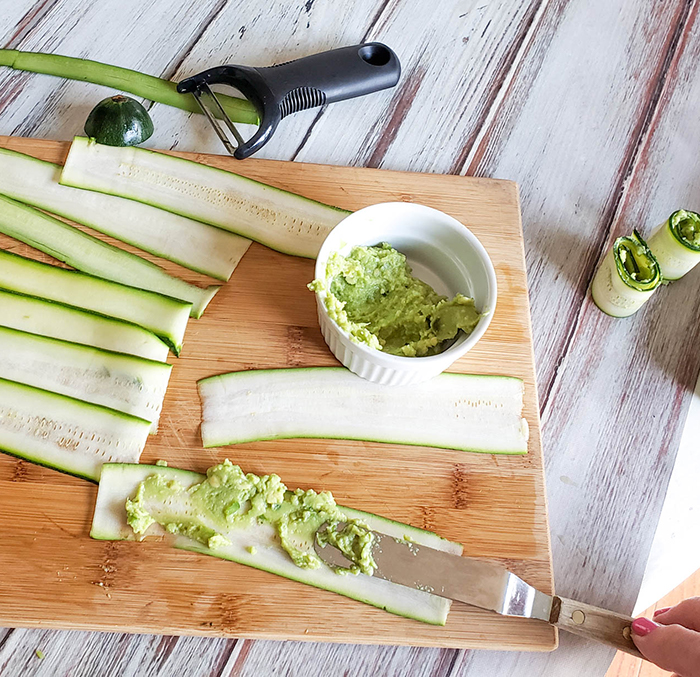 Step 2. Spread the guacamole onto the zucchini strips.
Tip! The easiest way to achieve nice thin zucchini slices is to use a vegetable peeler like this one and carefully the peeler down the length of the zucchini.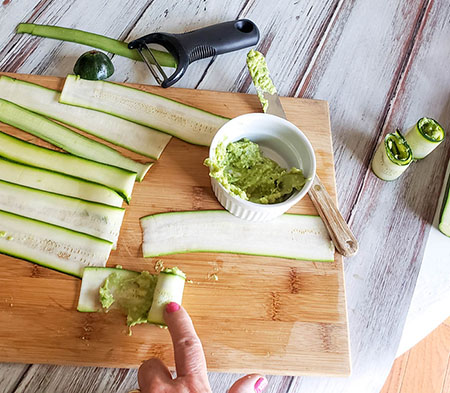 Step 3. Use your hands to roll up the zucchini rolls.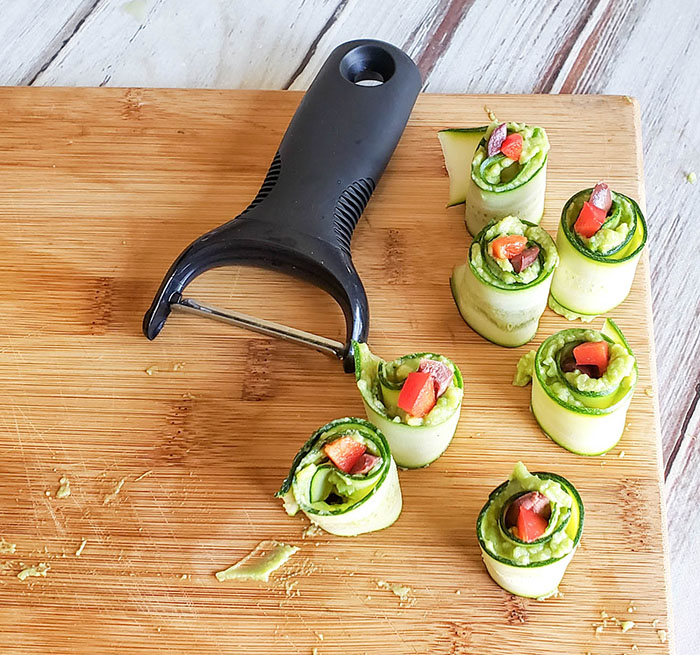 Step 4. Garnish the zucchini rolls with pieces of chopped tomatoes, pickles or olives.
Estimated Time To Make This Recipe: 20 to 30 minutes
Ingredient Notes & Substitutions
Zucchini. Small or medium-sized zucchini is the best to use in this recipe. If the zucchini is too large, the seeds may be big and make it difficult to roll the zucchini.
Substitute zucchini with yellow summer squash or use a combination of both
Guacamole. You can use your favorite guacamole recipe or store-bought. For best results, the guacamole should be fresh. Here is my easy recipe for homemade guacamole.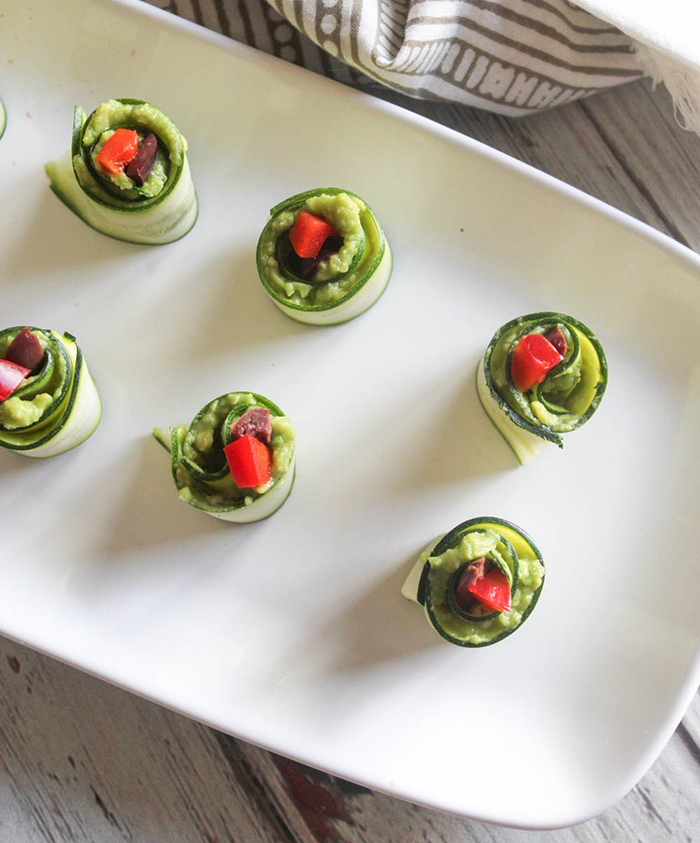 Make Ahead Instructions
Zucchini roll-ups can be assembled ahead of time, but they should be made no more than 2 hours before serving to maintain the fresh vibrant color. Once they are made, store them in an airtight container until it's time to serve them.
TIP! Add a splash of lemon juice to the guacamole to prevent it from browning.
How to Store Refrigerator Zucchini Pickles
Store your zucchini pickles in the refrigerator for up to two weeks.
Freezing is not recommended
Zucchini rolls are fragile, and as a result, leftovers will not last much longer than one day. If you have leftovers, place them in an airtight container in the refrigerator for a day.
Please note that the leftover appetizer rolls may be watery due to the moisture content in the zucchini.
Recipe Variation and Tips
Hummus zucchini roll-ups - swap out the guacamole with your favorite hummus recipe, like classic hummus or sundried tomato hummus.
Ricotta zucchini rolls - chop up fresh herbs and garlic add them to ricotta cheese for herb and cheese stuffing.
Egg salad zucchini rolls - stuff the rolls with homemade egg salad.
Goat Cheese Zucchini Rolls - stuff the rolls with goat cheese or a combination of goat cheese and guacamole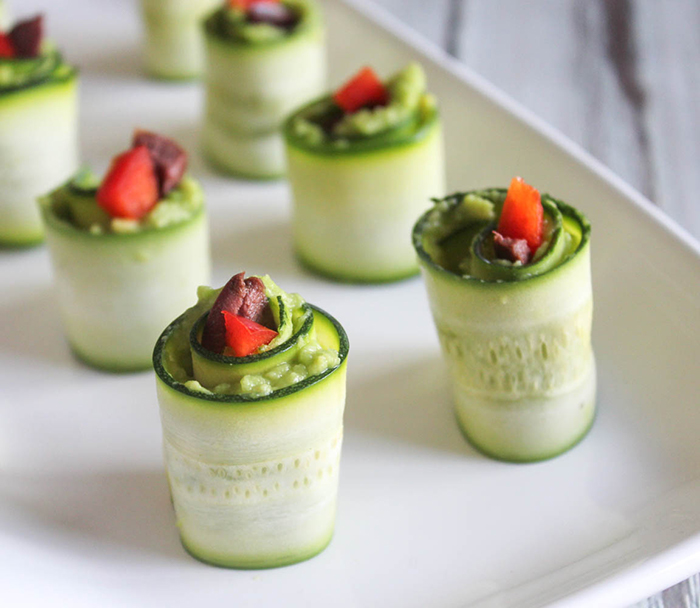 You Might Also like these easy appetizers
Join Our Mailing List to Receive Weekly Menu Ideas and More!